Dalton's Cinema Spot: Cloud Atlas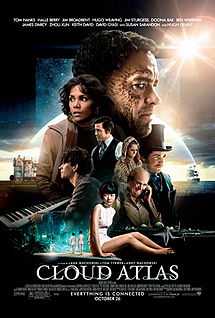 R, 164 minutes
Starring: Tom Hanks, Halle Berry, Hugo Weaving
5/ 5 Stars
From the creators of The Matrix trilogy comes a unique, sweeping, epic story that spans hundreds of years. Cloud Atlas follows six stories, spanning continents, separated by many years, as each of these stories is affected by the stories around it. A dying lawyer in the 1800's writes in a diary that is read by a young composer in 1931 Europe who writes love letters to his male lover, which are discovered by a young reporter in 1971 in California. Her adventures are turned into a manuscript that is read by an old editor in England in 2012. His comedic tale of escaping a retirement home is turned into a movie that is watched by the characters in the futuristic city of Neo Seoul, Korea and one of the female, robot- human viewers gets worshiped as a god like figure in the even farther dystopian future by a clan on the Hawaiian Islands. Confusing? A little bit, but it's worth the watch.
If one can handle the broad, genre-jumping, time-skipping, role-changing epic that is Cloud Atlas, then one can expect to leave the theater wishing there were more movies like this. The sweeping, stunningly beautiful film has all of its actors play multiple roles, many of them, including Hanks and Berry, playing up to six. The roles are meant to show how everything is connected in the universe and how one action can affect generations to come. This film is by far the most beautiful film of the year with glorious cinematography and makeup changes that deserve at the bare minimum an Oscar nomination.
All the actors give it their all in swapping race and gender roles; each brings a unique and fun view on the story. There isn't a dull moment in this gargantuan film that is nearly three hours long, but one has to be willing to sit for that long. The stories are all beautifully told and some will bring you near tears (the composer story in 1931 with Ben Whishaw giving a brilliant performance) while others will have you laughing out loud (the editor story in 2012 is comedic gold.) All in all, I left the theater thinking about this movie for days and I will probably be thinking about to for days to come. Cloud Atlas soars in more ways than one.