Dalton's Cinema Spot- Lincoln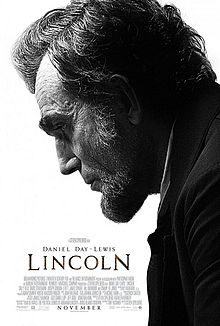 PG-13, 150 minutes
Starring: Daniel Day-Lewis, Sally Field, Tommy Lee Jones
4.5/ 5 Stars
As the title implies, this film is about the sixteenth president Abraham Lincoln (Day-Lewis.) This is loosely based on the Doris Kearns Goodwin book Team of Rivals and is focused on the four months leading up to the passing of the thirteenth amendment abolishing slavery, ending the Civil War, and Lincoln's assassination.
Now, everyone knows what happens with Lincoln in the end, no surprise ending or weird twist here. But this is a superb film and is easily one of the best portrayals of a president. Day-Lewis is definitely, without a doubt, going to get an Oscar portrayal for his performance and I feel he has a good chance of winning his third Oscar. He doesn't just breathe life back into Lincoln, but he humanizes the man that we so frequently place on a godly pedestal. Day-Lewis towers over everyone, yet makes Lincoln feel almost powerless in a many instances as North and South, democrats and republicans clash on the battle field or in the capital.
Field also brings a good performance to Abraham Lincoln's wife, Mary Todd, and I enjoyed how she was able to bring a level of crazy to Mary Todd that, being a presidential nut, I feel not many people know about just how sad, lonely, and almost deranged she really was. For a long time, I was worried Steven Spielberg had lost his touch; the last movie I really liked that he did was 2004's The Terminal, but this movie brings Spielberg back to his glory days of  Schindler's List and Saving Private Ryan. Lincoln does the rare thing by making history fun, accurate, and humanizing.