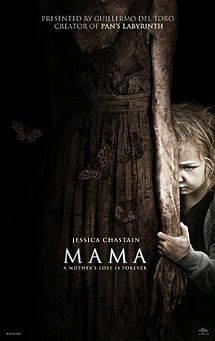 PG-13, 107 minutes
Starring: Jessica Chastain,  Nikolaj Coster-Waldau, Megan Charpentier
3/ 5 Stars
Story continues below advertisement
Loosely based on a 2010 short film by the name of Mamá, Mama follows a likable punk/hipster type couple (Chastain and Coster-Waldau) named Annabel and Lucas. Lucas had a twin brother who, in the wake of the 2008 Recession, went mad and killed his wife, himself, and abandoned his two little daughters in the woods. After five years, the girls, who are now more animal then human, are discovered and brought to live in society with their aunt and uncle. Little do Annabel and Lucas know, the girls have been watched over by Mama.
Surprisingly, this had some good acting. Chastain, still riding off the buzz from her Oscar nominated performance in Zero Dark Thirty, does a fairly good job as the reluctant "mother" of the two girls. Coster-Waldau, best known for playing Jamie Lannister in HBO's Game of Thrones, does a fine job as well. For a horror movie like this, the characters are well defined and actually don't do cliché's like call out "hello?" when they hear a strange noise. Mama also offers some creepy moments, though nothing makes me jump in shock or fear.
Unfortunately, this is largely just rehash. If you've seen Insidious and Woman in Black, then you've seen Mama. Nothing new or creative is brought to the table with this one and the same gimmicks used in Insidious are used in this while the story itself involving the Mama ghost/ ghoul/ creature thing is the exact same as that in Woman in Black. Plus, reminiscent again to Woman in Black, the ending is a dud and lacks any sort of chills and luster unlike Insidious. Mama chills but never scares.