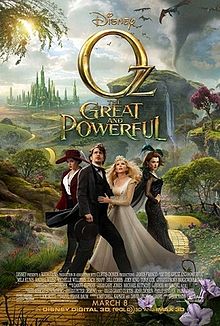 PG, 130 minutes
Starring: James Franco, Mila Kunis, Rachel Wiesz
1/ 5 Stars
Story continues below advertisement
Right in the childhood! Oz centers on a con artist named Oz (Franco) who travels around Kansas fooling naïve farmers into believing he is a magician. After a tornado hits his traveling circus, he is taken to the magical world of Oz. There, he sees 3D gags, colors so vivid they make the rods and cones in your eyes scream, and dim witted, bland witches like Theodora (Kunis) and Glinda (Michelle Williams) who feel out of place in the over the top glamour of Oz.
I walked in with generally high hopes, expecting something similar to 2010's Alice in Wonderland. Comparing Oz to Alice, I feel, is like comparing Nicki Minaj to Adele. This is actually painful to watch most of the time with roller coaster camera work along with millions of 3D gags and colors that are hard to explain beyond being rainbow vomit And yet, with all the colors and visual effect intensity that take away from the characters (even though all of them are uninteresting and bland, though I give kudos to Wiesz for her decent turn as the witch Evanora), there is no sparkle like in the original. Where is the young Dorothy Gale who wanted nothing more than to go back to her family in Kansas? Kansas! Of all places she wanted to go back to Kansas. Here we have a womanizing jerk who has no redeemable qualities and is played horrendously by a goofy grinned Franco, though compared to Kunis he deserves as Oscar nod. She gives her absolute worst performance as Theodora the "Good Witch" and manages to be boring and overly dramatic at the same time.
Those hoping for nostalgia will hardly find any here. Yes there's a yellow brick road and munchkins (with a bit more diversity this time) and yes there are poppy fields, the Emerald City, and quick references to the Scarecrow and the Cowardly Lion (no love for the Tin Man) but that's about it. A crippling script, poor direction on Sam Raimi's part (who directed one of my favorite horror films The Evil Dead back in 1981), terrible acting by nearly the entire cast, poor dialogue, cheesy jokes that all fall flat, and a cornicopia of plot holes all make this movie limp on until the end credits roll.
Oz tries to be a revamped, extra zany Alice in Wonderland but fails miserably at all ends. And the creepy innuendo between Oz and…well everyone slashes my childhood memories. Since when is Glinda THE GOOD supposed to act that way!? That behavior is for a wicked witch (SPOILER! The wicked witch gets turned green and ugly in the most clichéd Disney styled way EVER!) Oz: The Great and Powerful is anything but.