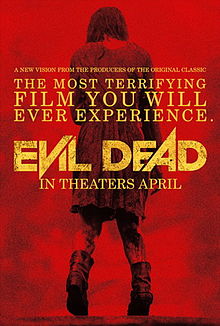 R, 91 minutes
Starring- Jane Levy, Shiloh Fernandez, Lou Taylor Pucci
3.5/ 5 Stars
Story continues below advertisement
Evil Dead is classified by many as a remake of the 1981 campy cult classic film The Evil Dead, but I feel this is more of a standalone film in the world that is all things evil and dead. Five twenty something year olds all go to a creepy, old cabin in the middle of nowhere and they discover a book wrapped in barbed wire and human flesh. Naturally, one of the young men, Eric, (Pucci) reads it and unknowingly releases a hibernating demon that attaches itself to poor Mia's (Levy) soul. And one by one, the other friends begin to fall under the influence of the demons and become blood crazed, quick moving, brutal zombie like monsters.
The tagline to this film is "The most terrifying film you will ever experience." That is false. Still the most terrifying and disturbing film I have ever seen is an art house film called Antichrist. People did leave the theater from shock and people did scream out and gag as the film rolled. I did not. Personally, I thought this was a very good, twisted dark comedy. Yes a comedy. Those who have seen the original The Evil Dead will understand. The violence and the gore is so over the top and so bloody and graphic that one becomes desensitize to it and realizes that the film is actually trying to be so over the top gut wrenching that its campy fun in its purest form.
This is not as good as the original film, then again very few remakes best the original, but it came pretty close. Evil Dead had a better cast and an overall better plot. The blood and guts flew all across the screen as people (SPOILERS) sliced off body parts, doused themselves in boiling water, shot nail guns into limbs and heads, burned to crisps, voimited blood that looked more like red Gatorade and separated two halves of their tongues with a razor. Very disturbing to some but if one really notices, it's all so unrealistic, so unbelievable and cheesy that one will understand, it's all for laughs and the occasional jolt in the end. Everything about this is campy and bloody. The problem is nothing vastly new and original was brought to the table which weakened the overall unexpectedness that is so needed in a true horror film. Plus, the movie kind of limped on (pun intended) at some points. Evil Dead is a disturbingly fun time.