Dalton's Cinema Spot- Prisoners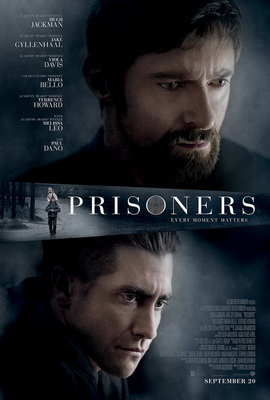 Dalton's Cinema Spot- Prisoners
R, 143 minutes
Starring- Hugh Jackman, Jake Gyllenhall, Terrence Howard
2.5/ 5 Stars
 Prisoners has a seemingly straight forward plot at its bones. Two young girls are kidnapped while playing outside one day and the two pairs of parents embark on a mad dash hunt to find the kidnapper along with the help of a local, easily agitated detective (Gyllenhall.) A suspect (Paul Dano) is quickly arrested for the kidnapping but after he is released due to lack of evidence, one of the girl's parents, Keller Dover, (Jackman) decides to take matters into his own hands to find his daughter.
One of the best aspects about Prisoners is the direction. Utilizing dark and grey landscapes, along with dull colored houses that look on the verge of collapse creates a perfectly eerie sense of melancholy and sorrow. The color schemes consist of grey, grey, and more grey but it's used well to emphasize the pain of loss and how bland life suddenly becomes when one is in a state of grieving. The other best part of this film is the acting, particularly Jackman. This is his movie. He dives into a deeper, darker role than ever before seen and does a chillingly excellent job. Every time he appears on camera, tension grips your heart as he delivers an unforgettable performance that far surpasses his last Oscar nominated performance in last year's Les Miserables.
Sadly, directing and acting can only go so far. What disastrously ruins this film is the script. It's been a while since I've seen a movie with so many gapping plot holes in it. Granted, with a thriller there will be a few minor plot holes sprinkled throughout just to move the story along to a griping, mind bending finale, but Prisoners' plot holes are excruciatingly distracting. By the end of the movie, I was left swamped with plot holes and loose ends galore. All these plot holes could have been pushed under the carpet with a terrific Se7en like ending, but this ending is a far cry from superb and in some way is a train wreck. Ambiguity only goes so far in a story until it becomes a feeling of emptiness and lack of fulfillment.
I was hoping for more from this movie, especially with some praising it as the best thriller of the decade (not a chance), and in the end I was left feeling lethargic, confused, and mildly bored. Cutting forty five minutes could have created a better, gripping tension, but Prisoners is a slow paced, muddling "thrill ride" even though it feels more like a drama. With great acting and directing, Prisoners could have soared, but it's imprisoned in mediocrity thanks to its weak script.