Dalton's Cinema Spot- August: Osage County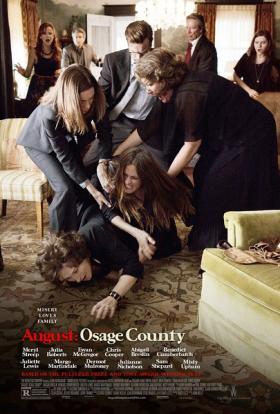 R, 121 minutes
Starring- Meryl Streep, Julia Roberts, Ewan McGregor
4.5/ 5 Stars
There's an old saying that goes along the lines of this, you can choose your spouse, but you can't choose your family. Truer words could not be spoken in describing one of the most dysfunctional families brought to screen in August: Osage County. The Weston family meets for the first time in many years after the patriarch (Sam Shepard) commits suicide and all must gather for his funeral with some of the notable family members being the "grieving" widow Violet (Streep), the bitter daughter Barbara (Roberts) and her separated husband Bill (McGregor). There are a plethora of other family members, but the list would just go on and on. The family grieves together, but quickly the seeds of resentment and cynical attitudes sprout into weeds before our eyes.
I have seen dysfunctional families such as the incestuous laden Lannisters from Game of Thrones ,the Nazi sympathizing Vangar's from The Girl with the Dragon Tattoo, but now the Weston's can make the list thanks large in part to the vicious, manipulative, drug loving matriarch played with heartbreaking reality by the always wonderful Meryl Streep. Streep is in top form and gives one of her best performances to date, balancing fragility and anger with such ease, it's fascinating to watch. Roberts as well is in top form and seems to be like wine or cheese, gets better with age. Her ditsy days of romantic comedies and playing the same bouncy girlfriend seem to be in the past now as she wrestles with inner demons with visceral energy in this film.
There is not a weak actor in the jaw-dropping cast that contains numerous Academy Award winners and nominees.  August: Osage County and American Hustle will go down as some of the ensemble casts of 2013. The dialogue is sharp and poignant with witty one liner's and sinister insults flying out the wazoo. The superb directing captures unbearable temperatures of Oklahoma in the summer which only adds to the escalating tensions felt throughout the Weston family. The only caveat in the near flawless film of degrading the American dream of a perfect family is the final three minutes or so. The very end strips away all meaning of the movie before it and near ruins the masterpiece.
Still, with an incredible cast, fine directing, and wonderful dialogue, August: Osage County is a purely wonderful film of the sheer insanity that can be seen in families across the nation. And, if all else, the film makes you happy you don't have a family quite as ludicrously maniacal as the Weston's.    
Leave a Comment