Dalton's Cinema Spot- The Lego Movie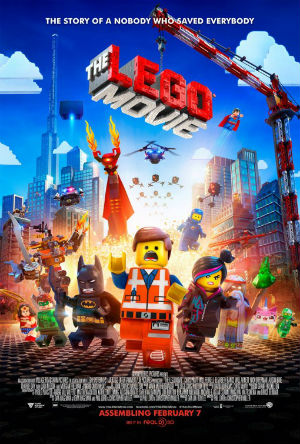 PG, 100 minutes
Starring- Chris Pratt, Elizabeth Banks, Will Ferrell
4.5/ 5 Stars
          Who would have thought it possible that an entire movie could be made (and made well!) about Legos? The Lego Movie centers on Emmet (Pratt), a typical, generic construction worker living the same old, same old, box like life of all the citizens in his town, all of whom live under the leadership of President Business (Ferrell). Suddenly, Emmet's typical life of non-adventure becomes entangled in a mystical prophecy that claims he is the Master Builder who will save all of Lego kind from President Business and his secret weapon, the Kragle.
I walked in with the lowest possible expectations for this movie. Yes, I loved playing with Lego's as a kid, but I didn't think it was conceivable to have an engaging movie from a toy line. There have been so many ham handed, lazily written toy based movies in the past (G. I. Joe, Transformers, every single Barbie theme movie), so I was skeptical. And with The Lego Movie, I was floored. Not only is this a great children movie, but is one of the rare animated films that children and adults alike will love. There is a perfect blend of childlike ecstasy and excitement while subtle adult humor is peppered throughout the keep all the audience thoroughly entertained.
The storyline is cute and has a thoughtful if not cheesy meaning to it (as stated in the movie, the meaning could belong on a cat poster). The script is sharply written and the voice acting ensemble does an excellent job. Unique and captivating animation leads to a visually pleasing final product, even if at times the action seems a tad frantic and manic. This films manages to put an end to bad toy based movies and open the door for possible similar movies, be that good or bad for the future of movies. (I.G. 2009's Avatar creating the boom of 3-D movies).
A fast paced and enjoyable film makes this a treasure in animated films and it will be difficult for future animated films of 2014 to live up to these high standards. With witty one liner's, clever storytelling, and an addictively catchy song to boot, The Lego Movie proves there are still some great ideas out there for movies, even if this is technically one giant advertisement. But, it's a product worth buying. The Lego Movie is the films must see film of 2014.
Leave a Comment