Bastille – VS (Other People's Heartache Pt. III) – An Overview
Bastille does weird Bastille things… again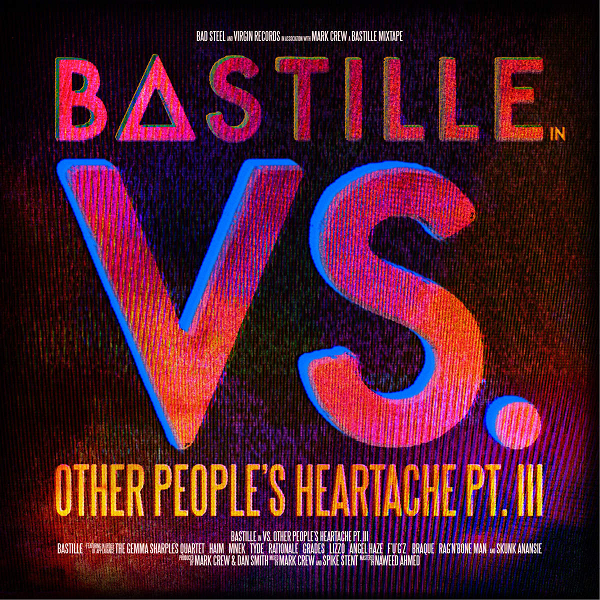 While you may not find the first two on the iTunes storefront (you can find them elsewhere, of course), VS (Other People's Heartache Pt. 3) is being released like a regular album, but it is in no sense "regular". You couldn't really put this in a certain genre, but one could call it alternative in the loosest sense (and alt. is pretty loose to begin with). I am usually a fan of weird experimental stuff, and British pop-rockers Bastille are no stranger to the weird side of music. Composed of frontman Dan Smith, drummer Chris Woods, guitarist Will Farquarson, and percussionist Kyle Simmons the band is well rehearsed in the art of messing around. Before they released 2013's Bad Blood, the band created Other People's Heartache; two parts of this were released in 2012, before anyone knew of them and these albums are a compilation of Bastille doing weird Bastille things.
In Part 1 & 2, they used samples from various songs such as Rihanna's "Titanium" and did a cover of City High's "What Would You Do", as well as adding various voice overs to songs such as "Thinkin' Ahead" and held some oddly titled tracks like "Requiem for Blue Jeans", showing that the band expands past the usual. Most of these songs are collaborations with various different artists on their own music. The group worked with rocker Ella Eyre on "No Angles" and singer-songwriter Maiday on their rendition of "What is Love?". The majority isn't original Bastille music, but it does have some original material. And as 2014 draws to an end, the third installment of heartache is finally here.
The mixtape has elements of a feel good Indie Pop anthem with "Bite Down", which was recorded with the fiery feminine trio, HAIM. VS then launches into a rendition of "bad_news", the original of which was on their Oblivion EP. This new "album" shows off Bastille's musical awareness and willingness to mess with the formula, and provides some stunning results. Moving into the grunge-rock feel of "The Driver", which was inspired by the film, the band shows off their grittier side.
Moving forward, VS changes up its styling. Elements of early 2000's R&B are prevalent in "Axe To Grind" with the catchphrase "You better sharpen up". And then there is "Torn Apart". This certain track is a bit of a standout, whether that is because of it's second part and it's dancefloor-remixy-rap-infused groove, or it's slightly, uh, interesting music video. Seriously, it's pretty strange. Keeping with the rap, bass lovers will absolutely dig "Weapon" with its heavy synth bass rolls, supplemented by Angel Haze's rapping. Her aggressive, fast-paced words nicely compliments Smith's and R&B singer Braque. Anyone familiar with the band's regular album will automatically notice that "Skulls" got slowed down and introduces the voices of soul and blues singer Rag N Bone Man and British band Skunk Anansie. The combination strips the song of it's rocker feel and adds a heightened level of emotion that is strangely inspiring end to the mixtape.
While this may not suit everyone's tastes, even those who consider themselves the highest of Bastille fans, those who do enjoy the odd side of music, this "album" is one that will be loved and almost immediately thrown on repeat. The album shows off the best of Bastille's musical intelligence and their fearlessness. Even if you don't like Bastille, this is one that people need to check out, even if it's for the one time Spotify stream.
---
Track List (Notable Tracks)
1. Fall Into Your Arms (vs. The Gemma Sharples Quartet)
2. Bite Down (vs. Haim)
3. bad_news (vs. MNEK)
4. The Driver
5. Axe To Grind (vs. Tyde vs. Rationale)
6. Torn Apart (vs. GRADES)
7. Torn Apart, Pt. II (vs. GRADES vs. Lizzo)
8. Weapon (vs. Angel Haze vs. F*U*G*Z vs. Braque)
9. Remains (vs. Rag N Bone Man vs. Skunk Anansie)
Leave a Comment