Activities Fair Helps Freshmen Get Involved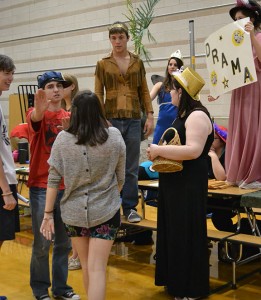 Monarch Thespians were a hit at the fair. Their representatives raided the costume closet and blasted music. Both techniques seemed to attract freshmen well. Junior Malachi Dray, pictured wearing a blue hat in the photo above, showed slight opposition to being photographed.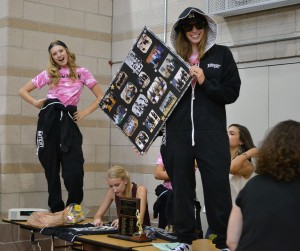 Juniors Francesca Cendali and Mae Williams are suited up for the activity fair. The pink camo shirts and black jumpsuits are both from last years Monarch girls basketball team on which they both played varsity.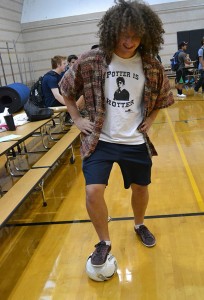 Senior Jonathan Ansell kicks around a soccer ball while repping his "Harry Potter" fan gear.  He is doing this on behalf of the MoHi boys soccer team, who is currently on season.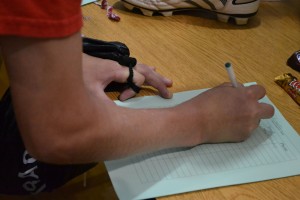 Each club was given a chart, as pictured above, for freshmen to fill out with contact information. This way, club executives can easily contact their new recruits. Even though some of these ended up on the floor by the end of the fair, they still proved to be effective.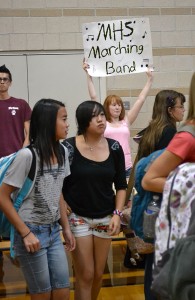 Many clubs struggle to get their signs seen by freshmen, as the small gym is very crowded. Marching band improvised well, as pictured above.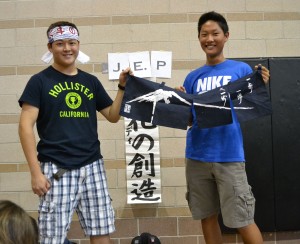 Seniors David Kim and Andy Kim represent the Japanese Exchange Program with flyers, headbands, and Japanese cultural artifacts. Andy Kim was actually able to spend a portion of his summer in Japan with the program.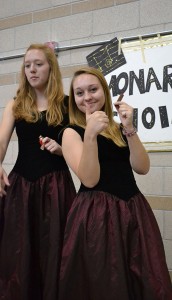 Monarch choir came dressed in the madrigals uniforms. Pictured above are senior Willow Reed and junior Elizabeth Myra. Later in the fair, members of the choir from throughout the fair congregated and sang for everyone to hear. However, the vast crowd severely muffled it.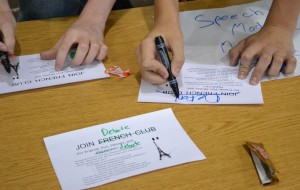 Speech and debate club came less prepared for the activities fair than their neighbors, the French club. Speech and debate managed to "borrow" and "repurpose" some of French Club's supplies, as pictured above.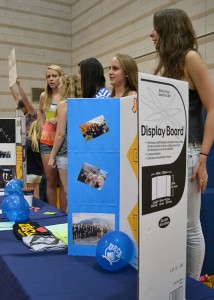 The largest display at the fair is that of MOHI DECA, pictured above. It is complete with pencils, posters, t-shirts, candy, balloons, and charismatic representatives.
Photos and captions by Joy Wineman.