The MOHI Fire
Small grass fire threatened J-Lot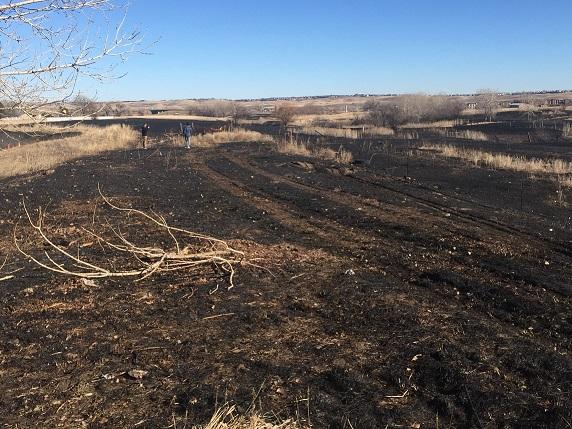 Ali Harford, Howler Editor in Chief
January 29, 2016|465 Views
During fifth period Friday, January 29th, an announcement came over the loudspeakers, saying that there was a small fire near J-Lot. Chaos ensued as juniors and sophomores tried to move their cars into the now overflowing senior lot, and firetrucks tried to get into J-lot to stop the spread of the fire. By 1:45 pm, no one had been hurt and no damage is thought to have been done to any cars, nor to any major structures. The fire is estimated to have burned two to five acres of the dry grassland to the southeast of the school, and was put out in about forty minutes, according to Michele Kelly, Division Chief, Fire Marshal, Fire Investigator and Information officer for the Rocky Mountain Fire Department. The cause of the fire is yet to be determined. The school was able to be isolated from the fire, and thus was able to keep functioning while the flames were being put out.
"There was really no danger to the students," said Kelly.
After the fire was put out, the fire crews continued working on cleaning up the area, since there was still a chance, especially with the wind, for larger pieces of fuel to re spark and light on fire again.
"In some places where the grass is laid down or there are a lot of leaves, sometimes you can still have remaining heat underneath in the lower leaves and the top is extinguished, and the heat can restart a fire, so we need to go through and make sure everything is extinguished. We call it 'mopping up,'" said Kelly.
The land will not be affected, however, because historically this area had regular fires as a part of the ecosystem. By summertime, the land should be flourishing.