What is Senate?
Senate's search for a sponsor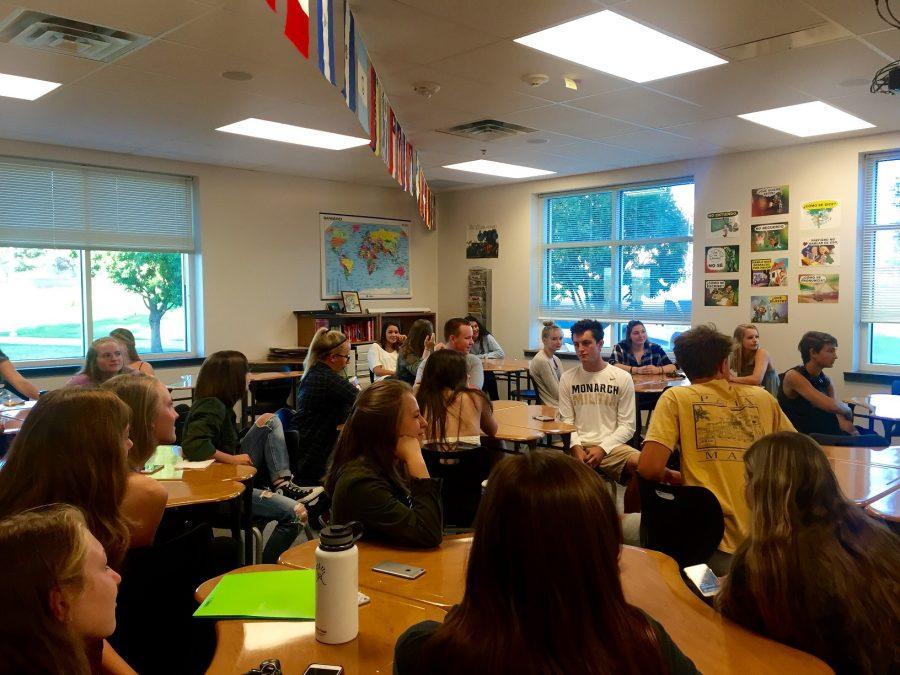 Senate is a club at Monarch High School that focuses on leaving a legacy at Monarch as well as making  senior year as memorable as possible. Students enter Senate as a Junior and by doing so, commit to being in Senate their senior year as well. Members, with the guidance of their students executives and teacher sponsor, put in a ton of work fundraising and organizing during their junior year and in turn get to make a lot of the fun decisions their senior year, including class songs, class motto, prom, and a senior gift.
Just how much work is senate for the students and their sponsor? Kristin Kerr Gannon, a member of her student government in high school as well as the current sponsor for Senate class of 2017, reveals that the work is extensive but also very rewarding. Executives, consisting of a president, vice president, secretary, and treasurer spend devote much of their time to organizing the group.
"In the fall of [my class's]  junior year, I spent ten or more hours [a week] and my execs spent that much time if not more in the fall," Kerr Gannon said.  
Although a ton of work, Senate does benefit the students. Estelle Silk, president of Senate 2017 said, "It's taught me a lot of organization and self discipline. It's especially taught me leadership."
Kerr Gannon is in agreement that Senate is about more than just prom. Students take away skills in leadership and communication while also growing stronger as a class. Through hard work and and perseverance, the Senate students get closer and closer to their end goal; an amazing prom and a memorable senior gift that they can leave as their legacy at Monarch High School.
Fears were high when it was beginning to look like the senate class of 2016 would not have a teacher sponsor. Not obtaining a sponsor quickly could have been detrimental to Senate's fundraising, with football season quickly approaching and concession sales being the club's great source of money.  Luckily, Emily Mozingo, a new spanish teacher this year has stepped up to the plate and is excited for the next two years.
Aware of the commitment and work to come, Mozingo sees the value in Senate and in what the club brings to the students. Along with the delayed gratification that students receive when they leave their mark on the school or throw the greatest prom yet, Mozingo thinks that it is clubs like Senate that allow students to make real connections and to grow closer as a class.
"We live in a world of instant gratification.. you don't have to watch TV anymore that has commercials and things like that. To obtain that delayed gratification is an important skill to have, and to have that understanding that your long time work has payed off is really rewarding," Mozingo said.
This year's elected Junior Senator execs, Kendall Magness, Jacob Kennedy, Ryley Cowan, and Chloe Mittelman and the other member of the group are gearing up to kick of their two year run as the class of 2018 Senate, with the home football game jump-starting their fundraising.
Leave a Comment