Pirate teachers surprise principal
MHS staff honors Anderson's challenge in costume
When Principal Mr. Neil Anderson was called to the MHS Library on Wednesday morning, he was a little concerned. However, as he walked through the doors his face burst into a gigantic smile. He saw his staff dressed as pirates.
"Mr. Anderson said at the beginning of the year that we're going to be pirates," Ms. Gwendolyn Lukas-Doctor, theater director and Language Arts teacher who organized this event, said. She went on to explain that Mr. Anderson used the pirate as a metaphor to challenge his staff because pirates, while very loyal, sometimes break the rules to help the community.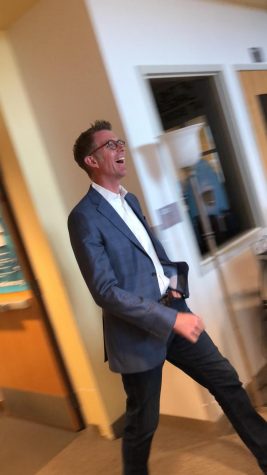 "Today just happened to be 'Talk Like a Pirate Day,' so we all decided to surprise Mr. Anderson and all dress like pirates," Ms. Lukas-Doctor said.
Mr. Anderson joined in the fun by donning a pirate hat for the group pictures.
"I was not expecting it," Mr. Anderson said. "I was told I had to be at the library at 8:50. I asked for what? And they just said, 'You have to be there." It was nerve-wrecking because I know a lot of students come to the library during tutor time, so it must be serious if they're willing to shut down the library. But as I walked through those library doors and saw the teachers I thought, that's pretty great."
Mr. Anderson was impressed his staff's willingness to take his words and literally turn them into action in the classroom.
"It makes me smile like today," he said.