Electoral Escapade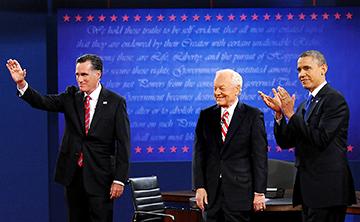 When Americans go to the polls on Tuesday the 6th, they will not be democratically electing their head of state, but rather partaking in the hack, outdated scam known as the Electoral College. The majority of voters will not choose their president for the next four years; in fact the majority of voters will be entirely irrelevant to the 2012 election.
Realistically, its laughable to call this the "United States presidential election", as it is truthfully the "Ohio/Florida/Colorado/Iowa/Virginia election."  It is only a small handful of these so-called 'swing states' that determine the election. The non-swing states have determined outcomes, with either President Obama or Governor Romney holding a clear-cut lead.
This is relevant because, with the exception of Maine and Nebraska (neither being swing states), all U.S. states vouch all of their electoral votes (based on congressional representation) to the candidate who receives a majority of the vote in the state. For example, New York's 29 electoral votes will go, in their entirety, to Barack Obama. Never mind the fact that roughly a third of New Yorkers support Romney for the presidency. And likewise, approximately 40% of Georgia voters will cast their ballots to reelect the president and their votes will not matter a single bit. They are irrelevant.
Living in Colorado, our votes are valuable. As a result, we are blessed (or more likely cursed) with frequent visits and campaign ad bombardments from both candidates. At this time, the Colorado race is so tight that different polls project a different victor, indicating only slight leads of up to a few percentage points for either candidate. So if you are voting in this election, you actually have a say in the future of this nation. Congratulations.
There are several problems with this system, and they include the marginalization and discouragement of millions of voters in most states, but even more concerning is the potential for the most undemocratic election of a candidate preferred by a minority of voters. This happened in 2000, as Al Gore won the popular vote but lost the presidency due to a barbaric process. This also occurred in 1876 and 1888, and it is certainly possible that it will occur again this year.
It is not the popular vote that determines our executive, but rather this ancient system. It was well designed for our agricultural past, as it forced candidates to campaign outside of population centers to court the precious electoral votes, creating a more inclusive race.
Last time I checked, America is no longer agrarian and our constitution is 225 years old. Let's ditch the college and get in line with what an election looks like: a majority of voters choosing their preferred candidate.