App Spotlight: Paper-Stories from Facebook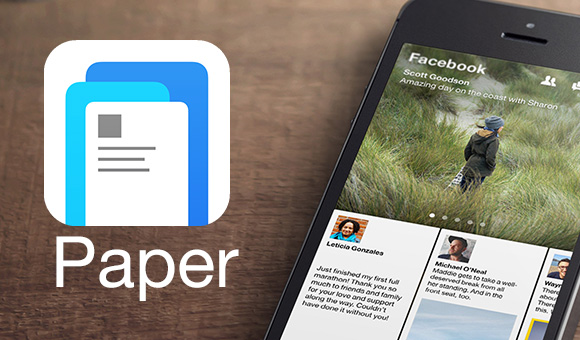 Details:
Available on the App Store for free
Compatible with iPhone, iPod and iPad
Requires IOS 7.0 or later
"Explore and share stories from friends and the world in immersive designs and fullscreen, distraction-free layouts. Paper includes your Facebook News Feed and sections about your favorite topics."
-From the Apple App Store
Getting a little tired of your Facebook feed?
Paper – stories from Facebook is a stand-alone app Facebook has released. Paper allows for you to see your Facebook feed in a whole new way. Featuring full-screen viewing, intuitive gestures, and a beautiful and elegant design, Paper gives a visual and "immersive" way to view content.
First off, Paper allows users to view your Facebook feed as well as to follow other topics which are specially curated by Paper, such as Food, Tech, Cute, and LOL. Each section provides an array of topics and articles for viewing pleasure.
Design and Gestures
You'll start off with a welcome screen and an introductory video. Afterwards, you'll then start to add sections. At the bottom of the screen you will find a carousel of sections. Drag the section cards to the upper half of the screen to add it to your collection.
When you finish your selection, you'll find your main Facebook feed. Familiar icons such as the notification globe and the messages icon will be found in the upper right of the screen. A main picture will be featured on the upper half, while a similar set of cards of posts and photos will be side-to-side at the bottom. Scroll to the left to view more posts.
If you want to see a card more in-depth, put your finger on the wanted post and drag up.
Paper allows for a wonderful way to view widescreen photos. Find a photo that fills the entire screen. Tilt the phone left and right to see more of the photo.
Scroll left at the top to see the sections you've added.
Pulling down will reveal a menu with your profile as the first button and settings ending the menu. The top of the screen has search which allows you to search Facebook for pages, groups, etc.
Settings include notification, autopan/autoplay (in which you can toggle whether or not videos automatically play), and account settings.
Bottom line
Paper is a new and fresh way to view content. With intuitive gestures, immersive viewing, and fun topics to explore, you'll be going "Whoa, Facebook is cool again?"
Leave a Comment