Hosting the Little Free Libraries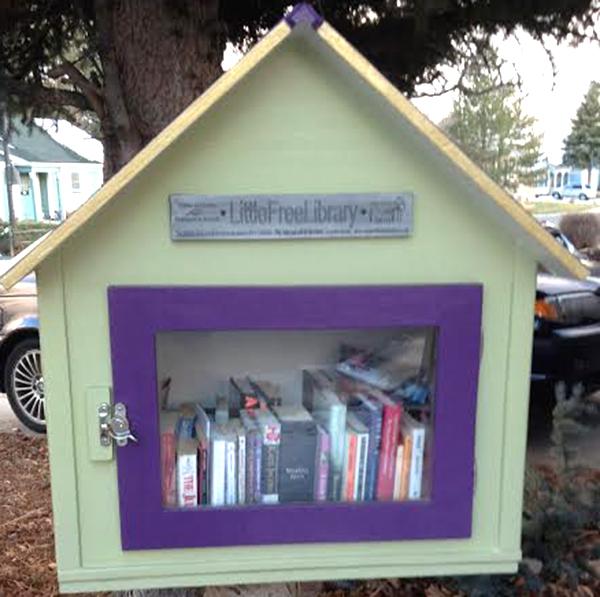 Books provide an escape from reality for people of all ages, regardless of their interests. Little Free Libraries provide avid readers with an opportunity to be introduced to books they are unfamiliar with. Little Free Libraries are free"take a book, return a book" libraries with books that have no due date. The idea is that users of these libraries bring a "book of their own to exchange with one of the books that are already in the library. Users may choose to return a book that they took, or simply keep it as one of their own.
Little Free Libraries were introduced to the world in 2009 by Todd Bol. He filled a model of a one room school house with books in memory of his mother and placed it on a post in his front yard, accompanied by a sign that said "Free Books."
Since then, Little Free Libraries have become very popular, and people working for Little Free Library have a goal of building 2,510 Little Free Libraries. This goal was met in August of 2012. As of January 15th of this year it was estimated that  there are 15,000 Little Free Libraries in at least 56 countries.
Rick Brooks is Co-founder and Program Director of Little Free Libraries. "My job as co-founder is to help people discover the value of things like Little Free Libraries–the sense of community they can feel because they are contributing to the common good, the pride they can experience because they are helping children and adults learn to read, and the genuine satisfaction they can have when they help libraries of all kinds, big and small, to thrive," Brooks explained. He thinks that by using Little Free Libraries, people have the opportunity benefit other people as well as themselves. "If you think about it, sharing books you find in a neighborhood Little Library may seem pretty basic and unexciting.  But the more you contribute–especially if you're sharing your favorite books–the more you get out of it," Brooks said.
Jeannie Dulaney is the owner of her very own Little Free Library here in Louisville. In July of last year with the help of her husband, Dulaney built her Little Free Library and posted it on a tree stump in her front yard. She decided to open her own Little Free Library after hearing a story on them on Colorado Public Radio. " I love reading and the whole idea and reason behind LFL (Little Free Libraries) appealed to me so much. I couldn't stop thinking about it and just knew I would have to put one up," explained Dulaney.
When Dulaney first put her library up, it got plenty of use because it was the first one stationed in Louisville. "Use of the library ebbs and flows now, and it really takes care of itself, just as it is designed to do," said Dulaney. She used to check it frequently when it was newer, but now that it has been around for a while, she usually looks at it only when she is looking for something new to read, or has some books of her own to contribute.
"When you take a short browse through an LFL you never know what you might find," said Dulaney, " my very favorite thing about having an LFL is that I will never be without something to read!" She likes the fact that having a Little Free Library gives her an opportunity to do something positive for her community, as everyone and anyone has the chance to enjoy the books. "Little Free Libraries can be important for so many reasons. Anything that fosters a love of reading and makes it more available is a good thing," explained Dulaney.
Diane Caro is a Monarch K-8 Librarian who also has her own Little Free Library. Caro started her Little Free Library about two years ago, making it of scraps of things that she found around her home, and filled it with a plethora of her own books.
She got the idea of starting her own Free Little Library after she saw a story about them on NBC News. "I said to my husband 'hey, thats a great idea', and I had all these books at home, as a librarian. I thought it would just be great," said Caro. Since Caro built her Free Little Library she has enjoyed watching the continuous flow of books that come in and out of her library. "It's so fun to see what people will leave in there, and what people take out," she explained. She thinks that the Free Little Libraries are a great way to get books into the world, and that it is important to do so "we want everybody to read."
She recognizes that the Little Free Libraries aren't always as convenient as public or school libraries, as the selection is much more limited. "When you go to a Free Little Library, it is what it is, you get what's there," she said, adding that "It's handy, it's easy to go visit it. It's always open, it's always there."
Caro believes that Little Free Libraries do good things for individuals, as well as the community as a whole. "Reading is the best thing you can do for yourself," said Caro, " it's a great opportunity to build a community,make connections [and] share your ideas."
Leave a Comment