Fall Out Boy Reassert Their Musical Monument With 'American Beauty/American Psycho'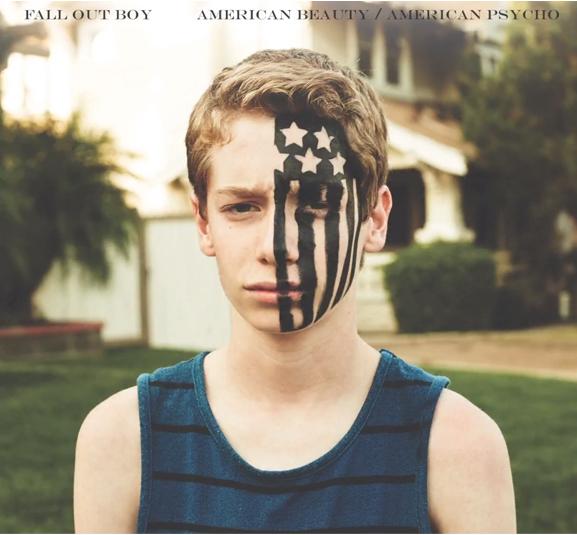 Fall Out Boy is starting 2015 the right way: their new 11 song album American Beauty/American Psycho ranked #1 on iTunes, "Immortals" featured in Big Hero 6, an interview on The Tonight Show, their new song "Centuries" living at #5 on iTunes, and general sale for tickets to their The Boys of Zummer Tour (with Wiz Khalifa and Hoodie Allen) starting on January 23rd. "It's insane to think that 14 or so years later we are still doing this," the band posted on their website the day of their new album release. "If there is any legacy to this record (American Beauty/American Psycho) it is that this one in particular was created as we travelled around the world- got coffee, made up jokes on long rides, fell asleep in airport lounges, got homesick, got sick sick, felt better, saw familiar faces and met new ones…this is the fabric of this record, so thank you for being a part of it."
After the release of their breathtaking album Save Rock and Roll in late 2013 after a four year silence, Fall Out Boy has been chosen as the designated band for my winter soundtrack. Just in time for the snowy death freeze that Colorado experiences in late January, Fall Out Boy came in clutch with their new LP American Beauty/American Psycho, released January 20th, featuring songs "Centuries," which was released in September, 2014, and instantly gained popularity what with their nod to Susanne Vega's "Tom's Diner", "Uma Thurman," a jammin song named after the famous American actress herself, and "Irresistible," a song that starts quiet but descends into the classic, head-banging sound Fall Out Boy has perfected.
American Beauty/American Psycho has a different sound than Save Rock and Roll. The album generally gave off more of a hipster-indie vibe with slower beats, heard especially in "Jet Pack Blues," "Favorite Record," "The Kids Aren't Alright," and "Irresistible." There isn't as much a highlight on Fall Out Boy's sick guitar skills, as their new songs seem to more feature that desired, trendy (at least for this year), electronic pop sound, with a highlight on drums. The song "American Beauty/American Psycho" has a beginning that sounds similar to FOB's old songs, but then FOB smashes some oddly placed electronic pop into there, creating a smorgasbord of music in a short 3 minutes, 16 seconds.Without as many "true rock and roll" elements, the new songs are quieter, and feel just a bit more…grown up. It's as though Fall Out Boy was going through a rebellious teenager phase with Save Rock and Roll and the songs of that album screeching about partying, being young, and it featured a particularly empowering rant by Courtney Love in "Rat A Tat." Now, with American Beauty/American Psycho, their songs give off a more mature vibe, their lyrical anecdotes about more heartbreaking matters. "Jet Pack Blues" has a particularly chilling chorus: "She's in a long black coat tonight//Waiting for me in the downpour outside//She's singing "Baby, come home" in a melody of tears//While the rhythm of the rain keeps time…Did you ever love her? Do you know? Or did you never want to be alone?" Their new songs, rather than conjuring up daydreams of burning buildings just to stick it to society because I'm a teenager, lay off, make me think of going on a marvelous road trip adventure that hipsters all around the world would be jealous of.
There is yet to be an album that can top the stunning genius of Save Rock and Roll, but even though Fall Out Boy seems to be leaning more towards the more modern rock rather than the old, 2002 harsh-on-the-ears pop punk, American Beauty/American Psycho is an album that will go down as one of my all time favorites.
Score: A-
Tracklist (Favorites in Bold)
Irresistible
American Beauty/American Psycho
Centuries
The Kids Aren't Alright
Uma Thurman
Jet Pack Blues
Novocaine
Fourth of July
Favorite Record
Immortals
Twin Skeleton's (Hotel in NYC)
Leave a Comment