Del Rey's Honeymoon Proves Mediocre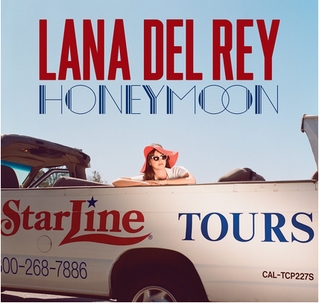 The first line Lana Del Rey sings on her newest album, Honeymoon, is "We both know it's not fashionable to love me." Well, we all know that she's being far too modest. It is, in fact, plenty fashionable to be a fan of hers, and there is nothing wrong with that.
Del Rey has made quite a name for herself as a retro pop chanteuse, and she has claimed a monopoly on sounding bored over reverberating synth-strings and little else. Perhaps this is why her music is compelling, it is certainly unique, and stands out among most of today's pop hits. One can't help but applaud Del Rey for not resorting the song formulas which have become the status quo.
With such a singular sound and vision, it is difficult not to feel disappointed when Del Rey releases an album full of material that fails to flourish in the songwriting department. Honeymoon is at times a frustrating listen, because it seems as if Del Rey has something special on the tip of her tongue, but can't quite express it and instead goes back to vaguely musing about failed/failing relationships (revealing little that can't already be taken away from countless pop hits over the years) and fame over two-chord pseudo-film scores.
One listen through "Honeymoon", and it becomes clear that Del Rey loves the classics. She quotes David Bowie's "Space Oddity" on "Terrence Loves You", she references The Eagles multiple times on "God Knows I Tried", she reads T.S. Eliot's "Burnt Norton" on the her eponymous song, and she covers Nina Simone's 1964 hit "Don't Let Me Be Misunderstood" to close out the album. An appreciation for the art canon can only be a virtue, and Del Rey deserves credit for her ambition, but she falls short of her influences because she is lacking in originality. She obviously admires the tried and true, but the tried and true was not excessively derivative of the previously tried and true, instead it challenged convention.
The music on "Honeymoon" is, at its core, a solid foundation. Its placid pace and hazy, almost ethereal textures bring to mind a 21st century update of such prolific underground rock bands as Slowdive and Galaxie 500. Its melancholy synth chords are reminiscent of Del Rey's beloved Bowie, specifically his late '70s work. It is evident that this music has potential upon first listen, but what made the aforementioned artists' work so striking was their willingness and capability to challenge the ear. They caught the listener off guard with their imperfections, they used catchy melodies, but ones that seemed to be unlike anything ever previously recorded. They pushed the boundaries, and Del Rey seems to be giving these same boundaries a half-hearted nudge on every cut from this album. At least she recognizes that they exist and are meant to be challenged, but she stays well within her (and the listener's) comfort zone, and thus puts out an album that, while inspired by the classics, falls well short of being a classic.
SCORE: C
---
Track List: Notable Tracks 
Honeymoon
Music to Watch Boys To
Terrence Loves You
God Know I Tried
High by the Beach
Freak
Art Deco
Burn Norton (Interlude)
Religion
Salvatore
The Blackest Day
24
Swan Song
Don't Let Me Be Misunderstood
Leave a Comment