Quick and Healthy Breakfast Ideas
How to eat the first meal of the day on a time crunch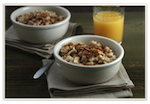 As a busy high school student, it can be hard to find time for eating breakfast every morning. And if you do manage to eat, it's usually grabbing something as you run out the door for first period. But with AP classes, sports, clubs, and all the other activities that fill our day, breakfast isn't just the most important meal, it's vital to tackling your list of to-dos and starting your day full of energy. Here are a couple of simple, healthy, and delicious breakfast ideas that are sure to get you on your feet and ready for the day.
Toast with almond butter and sliced bananas, drizzled with honey and sprinkled chia seeds.
This breakfast has almost all of the nutrients to kickstart a busy day, as well as tasting amazing. All you need to do is toast a piece of bread, spread it with almond butter, and then slice up half a banana and layer it on top of the almond butter. Then drizzle the bananas with honey and add a sprinkle of chia seeds to the top.
Breakfast PB&J
Just like a typical peanut butter and jelly, this one is quick and easy, but with a breakfast twist. Instead of bread, toast two waffles spread peanut butter and jelly on them. You can also add strawberries to pack in the fruit.
Mason jar egg scramble
I don't blame you for being skeptical about microwaved eggs, but these are delicious, and an incredibly easy way to get the protein that eggs have in just a few minutes. To make these, spray a mason jar with cooking oil and crack two eggs, and a splash of milk. After you whisk this, feel free to add anything you like: ham, sausage, salsa, spinach, cheese, etc. Microwave the jar for 1-2 minutes.
Pumpkin pie Oatmeal
This pumpkin pie inspired breakfast is delicious anytime of the year, and by adding pumpkin to your normal oatmeal, you also add in fiber, vitamin A, and iron. For this, you'll need:
¼ cup quick oats

1.5 tbs of pumpkin puree

A splash of milk

1 tbs of maple syrup

¼ tsp of pumpkin pie spice (or just cinnamon)
Cook the oats with water as you normally would, mixing in a splash of milk at the end. Stir in pumpkin puree, maple syrup, and pumpkin pie spice until mixed.
Berry yogurt parfait
Layer your favorite yogurt (greek, vanilla, etc.) with berries of your choice (strawberries and blueberries work well) in a mason jar. You can also add granola and chia seeds. The best thing about this recipe is that it can be made the night before and left in the fridge, just forgo the granola and add it in the morning.