The Lazy Girl's Uniform
What the Heck is Going On, I Mean Really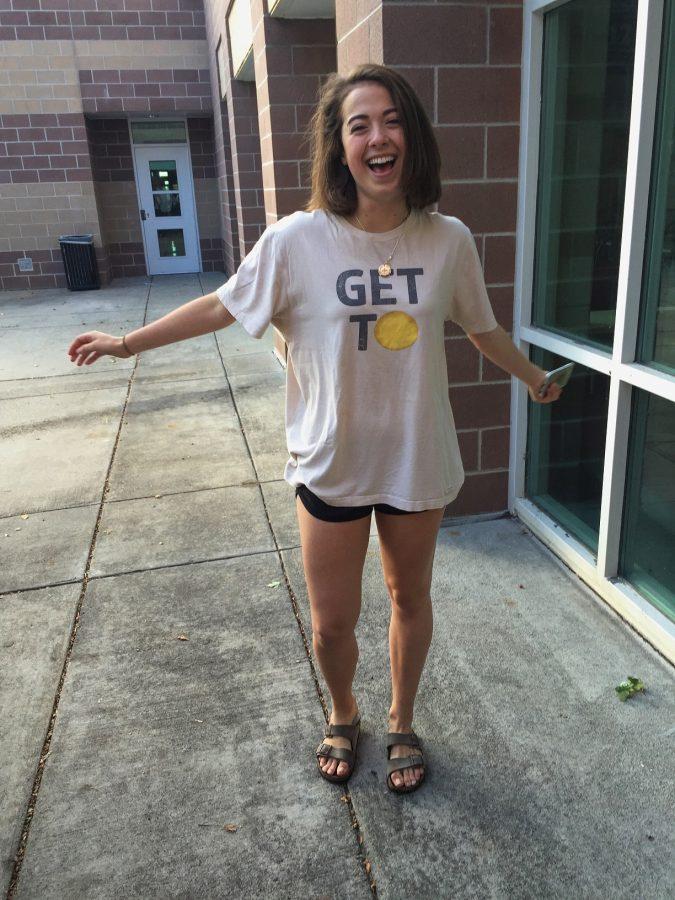 High school girls are probably some of the most stressed out people in the world. We have so many things we have to handle: school, work, sports, a social life, and for a lot of us, looking adorable while doing it all. Some of us have mastered the effortless beauty thing, some of us (me) seek out shortcuts everywhere we can. I'm constantly trying to find the balance of comfy and cute. Lately, I've been wearing what I like to call The Lazy Girl's Uniform. To those of you who aren't aware, this "fashion" trend (more like lifestyle trend tbh) is an oversized t-shirt and running shorts… and it's a phenomenon that is sweeping the nation.
When girls started wearing this I was so confused. I'm your average teenage girl. Like most of us, I follow fashion loosely and I know what works for me, but I like to try out new things every once in awhile. Suddenly, it seemed, every teenage girl in the world was wearing the same thing: shirts from the men's section of ARC or Goodwill and $80 shorts from Lululemon. It's ironic and strange,yet cute–the perfect description for teenage girls in 2016. When I was first introduced to the look, I literally thought these girls just rolled out of bed like this. It looks ridiculous like you're wearing your dad's t-shirt and flip flops.
"
It's ironic and strange,yet cute–the perfect description for teenage girls in 2016"
BUT THEN, one day I decided to wear it. That day freaking changed my life. I never felt so free! I can go to bed in this outfit, or on a hike, or to a bonfire, who cares! If I wasn't in my work uniform or a bathing suit, you better believe I was wearing the Nike shorts and XL t-shirt combo. I felt so liberated like I didn't have to wear my too-small-because-they-were-on-sale-and-I-figured-I-could-just-squeeze-into-them-in-the-name-of-fashion-booties or that one off the shoulder shirt that I always had to keep pulling up. I could wear something I usually only wear after a shower because it wouldn't cling to my recently moisturized body. I have yet to discover a more comfortable outfit and because of it, these past couple of months have been the most carefree time in my life.
The great thing about this outfit is it goes with nearly any type of footwear. I wouldn't wear Steve's or your Prom heels with it, but I would probably wear anything else. I've worked my Birks, I've worked my flip flops, I've worked my boat shoes, slippers, I've even gone places in this outfit barefoot.
You may disagree, but I also think that this outfit can be very flattering. Some girls choose to let their shorts show a little, some let their tee cover the whole damn get up. Bright tees make you look tan, and the big tee makes you look tiny. I've finally found the perfect balance of comfy and cute!  
The oversized t-shirt-dress thing will probably not be a trend for long, but we will never forget the comfort, the ease, the freedom of the oversized tee. We will never forget the beauty in the laziness of this outfit. I encourage everyone to find the beauty of laziness—not just in clothes—in everything… just to make everyone's lives easier you know? So girls, keep rocking Nike shorts and an XL tee you look functional, comfortable but most importantly, beautiful.
Leave a Comment