Monarch High School Group Aims to Provide Classmates Clarity
Clarity aims to combat student stress in the high school community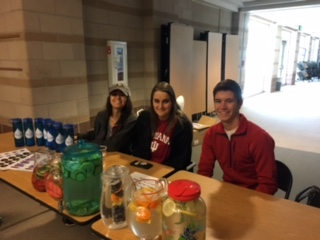 It is no secret that nearly every student feels stressed at some point in their time in high school. From homework and tests to sports, clubs, and other extracurricular activities, teenagers can be hard pressed to find free time to relax and take a breath. In fact, nearly 55% of high schoolers feel moderately stressed on a regular basis, with 18% of students feeling extremely stressed according to a recent study by American Psychological Association.
Yet even with these known statistics, students often note a lack of resources to help manage the weight of the school year. Throughout the United States, most secondary schools lack the necessary methods to manage stress and anxiety among students, which, consequentially, can lead to long term depression, and in rare cases, suicide.
Enter Clarity, a Monarch High School-based project aimed at raising awareness to student stress and suicide in all communities. After growing tired of the stagnation to raise awareness in the local community, the students of Rudy Sumpter's sixth period class formed a partnership with Denver's Carson J. Spencer Foundation to battle stress in an innovative, alternative way.
Beginning in February of 2017, the group began selling water bottles to high schoolers and other Monarch community members through table sales as well as website orders. Along with the translucent blue bottles comes a complementary sticker, consisting of vital information including suicide hotline numbers and valuable websites.
"The Clarity water bottles address (stress) by helping to create awareness in the local community, something that wasn't done well before," said company President and Monarch senior Anna Nickerson. "We want to bring down stress and help people to be aware in our community."
Since the initial launch, the project has taken off, gaining notoriety around the school and local community. Yet Clarity is aiming even higher than just the local Colorado area. It has partnered with Louisville-based Centennial Peaks Hospital in order to help spread the word to as many people as possible, with the goal of bettering the lives of many.
"I think our project can for sure expand past Monarch High School," said Taylor Ficker, the VP of Marketing for Clarity. "Because we are partnering with Centennial Peaks, we have the opportunity to reach people beyond Monarch High School. Additionally, our website is accessible to anyone."
The enthusiasm is also being shown through students who purchased bottles in Monarch High School claims Sydney Lehman, a member of the marketing team.
"I think the people who are purchasing the bottles through Monarch are really sharing the word throughout the community," said Lehman.
Even though Clarity will not be able to resolve teen suicide and stress in high schools all over, they truly believe that every step helps.
"If we can do something to help one person in need of stress reduction, then our project is well worth it," said Nickerson.
– Clarity water bottles are available for purchase at carityfuture.weebly.com