A Ride in the Right Direction
Sophia Stern's Noteworthy Work at the Colorado Therapeutic Riding Center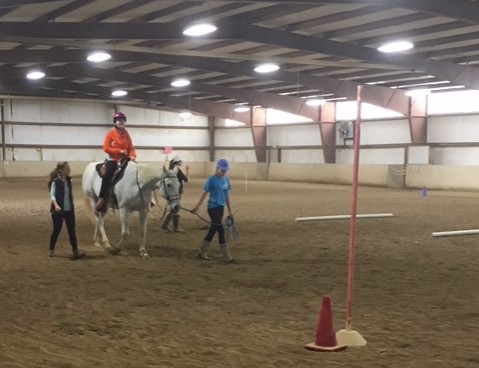 Sophomore Sophia Stern has been riding horses ever since her sixth birthday. "Back in California the first time I started riding was at one of those pony ride that rides you around at fairs – and I sort of fell in love with it." she said. After taking her first lessons with her best friend, she moved to Colorado, rode at three different farms, and now volunteers at the Colorado Therapeutic Riding Center.
At the center, disabled kids have the opportunity to ride horses and recuperate. "It's just so much fun seeing the kids smile, especially to see the kids that you know growing up getting teased and bullied for having their disabilities," Stern said.
People from all kinds of backgrounds attend this program. Some kids who were initially depressed or suicidal when they arrived leave the center with bright grins. "I definitely saw at first the kids were very nervous and they didn't know what to do – they had backstories of being teased and some even wanted to commit suicide for being teased so much." Stern said. "I loved seeing them get on the horse and have the biggest smile on their face."
Stern has two important jobs at the riding center. "I am a side-walker, where you're on the side of the horse and walk along with the kid, and make sure the kid isn't confused or making sure that they are okay." she said. "And then there is the leader, where you sort of lead the horse around and you get to ride around too."
Riding a horse can be an incredible and exciting experience. Horses are also the ideal animal for this type of program. "I think some of the horses sort of feel how you're feeling…when I ride, I notice the horses sense that I'm really nervous when I'm jumping." Stern said. "I felt like at the Therapeutic Riding Center the horses sort of feel that the child is either nervous or having fun." Clients have an opportunity to get a deep connection with their horse even if it's for the first time.
Stern helps give kids an experience that they'll never forget. While her passion may have begun at a ride at a fair, she has shown that it definitely won't end at the Therapeutic Riding Center.