Reputation Album Review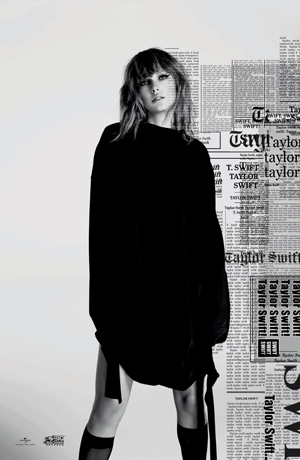 Taylor Swift's first album in 3 years, Reputation, was released on November 10, 2017. By November 16, one week after the release date, Reputation sold approximately 1.2 million copies and debuted at number 1 on the charts, and was named the #7 best album of the year by Rolling Stone magazine. The album shatters all expectations and barriers. Throughout the album, 27 year old Swift explores a more upbeat and hip hop tone, which is unlike anything she's released before.
This was Swift's 6th album and comes after a year of almost no activity from Swift, and after a brutal beating from the media and internet. This is addressed specifically in many songs across the album, such as the number one single "Look What You Made Me Do" and the party toned "This Is Why We Can't Have Nice Things." Both of these songs seem to address a long standing rocky relationship Swift has had with rapper Kanye West. Lyrics such as "friends don't try to trick you, get you on the phone and mind twist you," from the song "This Is Why We Can't Have Nice Things" directly address the scandal that occurred in February 2016. Kanye's wife, Kim Kardashian, released a video of a phone call the couple had with Taylor that showed her supposedly agreeing to her name being used in Kanye's song "Famous." Taylor addressed the issue on Instagram soon after saying, "being falsely painted as a liar when I was never given the full story or played any part of the song is character assassination". Many people say that Swift's response marks the beginning of her Reputation era and when the "old Taylor" died.
Many of the other songs on the album are geared more toward Swift's love life. Taylor's rumored boyfriend, british actor Joe Alwyn, seems to be the muse behind many of these lyrical masterpieces including "King of My Heart" and the slow ballad "New Year's Day". Romantic lyrics from these songs include Swift claiming that her love is the "king of my heart, body, and soul," from the song "King of My Heart". The one outlier on this album is undoubtedly "New Year's Day". This slow ballad about the aftermath of a New Year's Eve party, provides some of the most romantic lyrics on the album such as "please don't ever become a stranger, who's laugh I could recognize anywhere". The song is accompanied by Swift's slow piano playing.
Swift will be going on a Reputation world tour in 2018 and comes to Mile High Stadium in Denver on May 25th. Tickets go on sale on Swift's birthday, December 13. As to what comes next, Swift has been silent on what, if any, music is in the works for upcoming years.
In all, Taylor Swift's Reputation provides an in-depth view of the singer's personal life and public image through her eyes. Reputation is not yet available on any streaming services, but is available to purchase online and in stores.