A Soundtrack to our Memories
Mandy and Levi's 2018 summer playlist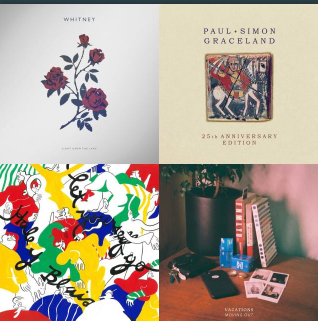 Every summer, we make a playlist filled with our favorite music. We listen to this music so much that it becomes the "soundtrack" to our memories of that particular summer. Here we are sharing some of our picks for this coming summer.
"Seventeen" by Haley Blais is the perfect anthem for anyone who is a teenager that is struggling with identity. Blais sings from the perspective of a misfit trying to fit into the norm that is created in a High School environment. She creates a melancholic feeling with the line "Do you think it will last forever?" which holds a significance for me as I leave high school this year as it encourages the audience to look past the hardship of being a teenager and consider the things that they will miss once it is all over.
2. Talking Heads- This Must Be The Place (Naive Melody)
Any Talking Heads song is perfect for a summer playlist. David Byrne always delivers quirky and comedic songs that are impossible not to tap your foot to. One of their most famous songs, "This Must Be The Place" is different from their other songs as it replaces their often cynical and ironic tone with a genuine and sweet love song. Through its lyrics and repetitive guitar melody it creates a simple and charming song that speaks to anyone who has ever felt the naivety that comes in moments in life where everything is seemingly perfect.
3. Whitney- No Matter Where We Go
"No Matter Where We Go" by Whitney is the type of song you want to blast in a car with all the windows down. This song makes me think of what a first love feels like; carefree and vibrant. The artist describes being so overcome by love that nothing else matters. This song's cheerful lyrics and beat are perfect to listen to on a easy-going summer day.
"Moving Out" by Vacations captures the struggle of moving into a new home. Making such a drastic transition may be overwhelming, but throughout this song you see how this event transforms the protagonist as he begins to conform and adapt to the change. I thought this was a perfect fit to accommodate and nurture the many emotions seniors may be feeling this summer. Experiencing change is challenging, but this song reminds me that it's about the big picture.
"Sprawl ii" by Arcade Fire describes what it's like to live in a suburbia with the feeling to strive for something greater. Anyone who has lived in Louisville or Superior for more than a few years has come to experience this, and finally leaving high school is the opportunity to act on this culminating impulse.
6. Paul Simon- You Can Call Me Al
"You Can Call Me Al" by Paul Simon tells a story of an individual filled with self doubt, contemplating their existence. Struggling to grapple their own thoughts leads to a transcendence of their perspective to a state of outwardness. This song was a top choice for me because although it is important to be self critical, the greatest way we grow is by simply walking with our heads up, not looking down at our feet. Life can be ugly, but this song reminds me that the world is beautiful.
The full playlist can be found at this link.