Here are the best carryout options in Louisville
Sick of eating at home? Try these places for curbside pickup
Opening a door, handing an employee a credit card, being less than six feet away from others, or not wearing a mask, are all reasons why it is so difficult to prevent the spread of coronavirus inside a restaurant. Because of this, many restaurants have transitioned from takeout into curbside pickup. Delivering food directly to your car reduces the risk of spreading the virus but still allows the restaurant to continue serving food–and for you to get fed better than another bowl of ramen.
In Louisville, there are so many great restaurants that now offer curbside pickup. I tried five different places and ranked them based on my experience. Here are the results:
1st place: Bao Asian Fusion & Sushi, 594 McCaslin Blvd, Louisville, CO 80027
The order: California roll, Alaska roll, and a Rainbow roll
Thoughts: Maybe I'm biased because I love sushi, but Bao was by far my favorite restaurant. Every piece of sushi I ordered was very fresh and clean, and each roll was simple but perfect. The little touches, though, made a big difference. For example, instead of throwing in a few soy sauce packets, they poured it into a small cup so it was easy to dip each piece.
A few minutes after I got my food, they called my phone to apologize because I had asked that they put the rolls in two separate boxes so it was easier to eat. I didn't notice that they were all put together, but I appreciated their efforts to take the time to reach out to me and try to correct the mistake.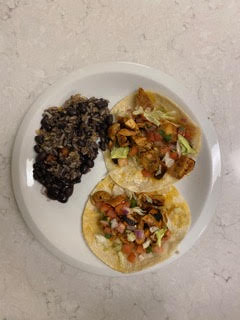 2nd place: PICA'S MEXICAN TAQUERIA, 901 Front St, Louisville, CO 80027
The order: Chicken al carbon tacos
Thoughts: It took about 30 minutes for my food to be ready, but the woman who brought my food to me was very nice and thanked me for supporting their business so they could keep working and continue to stay open. Everything was flavorful and tasted fresh. The taco were slightly overfilled, because the corn tortillas were so small. It was messy to eat, but it tasted great anyway.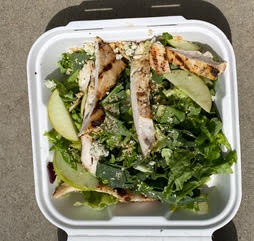 3rd place: Zucca Italian Ristorante, 808 Main St, Louisville, CO 80027
The order: Leaf and apple salad with chicken
Thoughts: The leaf and apple salad was exactly that–lettuce and apples, with chicken, gorgonzola cheese, and a balsamic dressing. It wasn't life changing or magical; it was just a simple salad. It did remind me of the Panera Bread Fuji apple salad, which has very similar ingredients and a balsamic dressing. Either way, this salad was a great light and healthy lunch, and I would order it again.
4th place: The Huckleberry, 700 Main St, Louisville, CO 80027
The order: Baked sourdough french toast
Thoughts: It took longer for me to parallel park than it did for them to bring out my food, even though I arrived before my food was scheduled to be ready for pickup. I ordered for breakfast the baked french toast, made with sourdough bread and mixed berry sauce on the side. This meal would have been amazing if it was twice as big. It was just one piece of bread, with no sides or extras to compensate for the small meal. If their portion sizes were adjusted to a normal size, this would have been one of my favorite restaurants to order from.
5th place: The Waterloo, 817 Main St, Louisville, CO 80027
The order: Waterloo burger with lettuce, tomato, cheese, sautéed onions, and a side of fries
Thoughts: I was super hungry the night I ordered dinner from Waterloo, so I was looking forward to getting dinner. My food was brought to my car quickly, and I rushed home to try out my burger and fries. The excitement disappeared as I started eating, and I was disappointed with what I had ordered.
My burger wasn't cooked as much as I would have liked and didn't have much seasoning on it. The fries were okay, but I would have preferred them to be slightly thicker or crunchier. Nothing I ordered was particularly bad, but it wasn't anything special. I had high expectations, and the end result was underwhelming and plain.
In Louisville, many of the most popular restaurants are locally owned. It is so important to support these businesses to keep them running during these hard times. This wouldn't be possible without the amazing restaurant employees who continue to work under stressful and constantly changing conditions. I greatly appreciate everyone who works at Bao, Pica's, Zucca, Huckleberry, and the Waterloo.