#5 Monarch Cashes in on Turnovers, Defeats #12 Falcon in First Round of Playoffs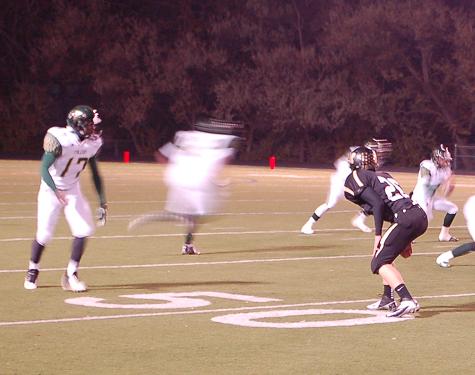 The first round playoff clash between #5 Monarch and #12 Falcon pitted two run-heavy offenses against each other, but the outcome was defined by mistakes in the passing game. The Coyotes scored all three of their touchdowns off of Falcon passing mistakes in their 24-14 playoff victory.
After a strong first half showing by Falcon star running back Kalen Ballage (108 yards, 15 carries, two touchdowns) Monarch's defense was able to contain him in the second half, limiting Falcon's number seven to just 20 yards after the break. "The kid's a maniac," said senior linebacker Colin Hart. "We had me and Pete [Mitchell, junior defensive back] focus on him and we had our defensive ends play on the edges [in the second half]. After that it worked out perfectly."
"We just tried to make [Ballage] run sideline to sideline," Monarch coach Phil Bravo said. "You get that kid running downhill, he's tough to bring down.
Ballage (128 yards, 22 carries, 2 touchdowns), opened the game with a 53-yard run on a drive he capped with a touchdown. Ballage scored another touchdown in the second, giving his team a 14-7 lead at halftime.
With Monarch's offense struggling save for a first quarter, 70-yard touchdown run by junior Ethan Marks, the momentum shifted in the middle of the third quarter when sophomore Logan Soole picked off a Falcon pass at the goal line and returned it 90 yards. Marks (155 yards, 28 carries, 2 touchdowns) cashed in on the turnover with a 5-yard touchdown run at the 8:37 mark in the third.
Monarch kicker Jamie Falloon hit a 38-yard field goal early in the fourth quarter to give Monarch a 17-14 advantage.  With just under eight minutes left in the game, Falcon threatened Monarch's lead after converting a critical third-down-and-seven. However, Soole came up with his second interception and returned it 11 yards to Falcon's 25.
Junior fullback Braden Pape (16 yards, 3 carries) broke through for an 18-yard run later in the drive, bringing the Coyotes to Falcon's nine yard line. On fourth-down-and-goal from the two, Falcon appeared to stop Pape, but a defensive facemask penalty gave Monarch a second chance from the one yard line. Quarterback Cole Watson found his way through a pileup and scored for the Coyotes, putting his team up 24-14 with 2:44 left in the game.
With Flacon driving in the final two minutes, Marks and Hart came up with consecutive tackles, the former's coming on fourth down in the open field to clinch the 24-14 win for Monarch.
"I felt like we wanted it more than they did," said Marks. "Turnovers and defense were the keys to the game."
The Coyotes will travel to play #4 Vista Ridge next week in the second round of the 4A state football playoffs.