Recipes for Improving your Game by… Eating?
For athletes, or any one in general, healthy eating is key to maintaining a balanced lifestyle. Here are a few quick and easy recipes to help maintain a healthy lifestyle.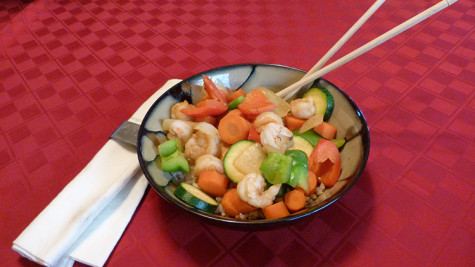 (Photo Credit: Daisy Fuchs)
Shrimp Stir Fry
Stir fry with brown rice, shrimp, and tons of vegetables is a great easy food to help athletes maintain a balanced diet. The high protein in shrimp makes this dish a great meal for after a hard workout.
4 large carrots, chopped
1/2 of one large onion, chopped
1 tablespoon olive oil
1 green bell pepper, chopped
1 red bell pepper, chopped
1 zucchini, sliced
2 tablespoons peanut butter
1/4 cup soy sauce
1 tablespoon fresh ginger, chopper
1 pound pre-cooked shrimp
4 cups prepared brown rice
1. Put carrots, onion, and olive oil in a large saute pan and cook on medium-high heat, stirring occasionally until the onion is translucent and the carrots have become tender.
2. Make the sauce by combining the soy sauce, peanut butter, and ginger in a separate bowl; to get a more thoroughly mixed sauce, put the combination in the microwave for 15-20 seconds and then mix with a fork
3. Add in the red bell pepper, green bell pepper, zucchini, and sauce.  Cook for a minute or two and then add in the shrimp. Continuously stir the stir fry and cook long enough to heat the shrimp and allow the vegetable to become tender.
4. Serve over 1 cup of rice
Makes 4 servings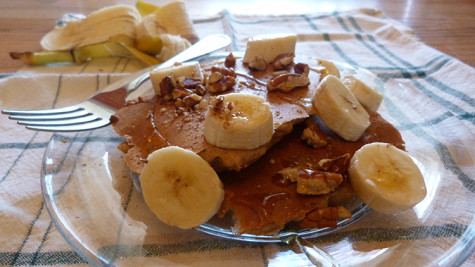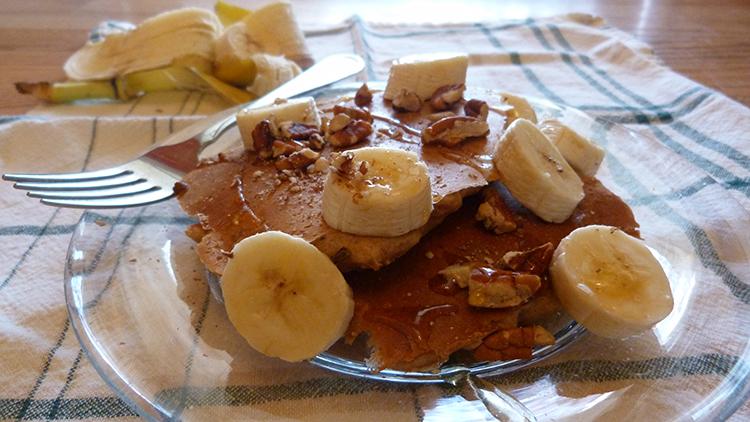 (Photo Credit: Daisy Fuchs)
Banana Pancake Recipe:
This recipe is great for a source of carbohydrates for pre-workout. To give a little more long-lasting energy, spread nut butter on theses pancakes.
1/2 cup rolled oats
1/2 cup yogurt
3/4 cup milk
1 egg
1 tablespoon oil
2 tablespoons packed brown sugar
1/2 teaspoon salt
1 teaspoon baking powder
1/2 teaspoon baking soda
1/2 cup whole wheat flour
1/2 cup white flour
1 teaspoon cinnamon
1 banana diced into small pieces
1. Mix together the oats, yogurt, and milk in a large bowl; set this aside for around 6 minutes to allow the oats to become soft. In a separate bowl combine the salt, baking powder, baking soda, flour,  and cinnamon.
2. Once the oats are soft enough, add the egg, oil, and brown sugar to the wet mixture, and combine them until they make a smooth mixture (with the exception of the rolled oats).
3. Add the dry ingredients to the wet ingredients; once the dry ingredients have been fully incorporated, gently fold the banana pieces into the batter. Note: the batter will be a little thicker than is often common for pancakes.
4. Heat a skillet to medium heat; if your skillet is not non stick you will need to lightly grease it.
5. Pour about a 1/4 cup of batter for each pancake; you may need to spread the batter out with the back of a spoon. Allow the pancake to cook until the top appears to be dry and then flip it and allow to cook for about one more minute.
6. Top pancakes with peanut butter, honey, nuts, sliced banana, or whatever you wish. Or just enjoy them plain!
Makes about 12 pancakes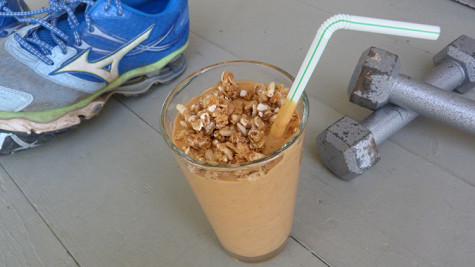 (Photo Credit: Daisy Fuchs)
Pumpkin Smoothie:
Because of the balance of carbs and proteins, this smoothie makes a great recovering drink.
1/2 cup canned pumpkin
1/2 cup yogurt
1/2 cup milk
3/4 cup frozen banana slices*
1 teaspoon brown sugar
1/2 teaspoon cinnamon
dash of pumpkin pie spice
1 scoop protein powder (optional)
Your favorite cereal or granola
1. Put all of the ingredients except for the cereal into a blender and blend until smooth.
2. Pour into glass and top with cereal or granola.
Makes one serving
*How to make frozen bananas: Take ripe bananas and slice them into circles that are about 1 centimeter thick, place these circles on a cookie sheet with wax paper and put the cookie sheet in the freezer. Once the bananas are completely frozen, peel them off the wax paper and store in a ziploc bag. Frozen bananas are not only great for smoothies, but they are also a great sweet, cold, and healthy treat.
Leave a Comment