Coyotes Stick it to Resurrection
Monarch continues their undefeated season with 3-1 victory over Resurrection Christian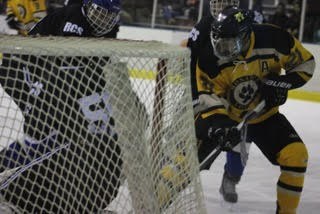 Six. That is the number of wins the Monarch ice hockey team reached on Friday night, extending their undefeated season for yet another game. Led by a mid-game offensive surge, the Coyotes defeated the Resurrection Christian Cougars by a score of 3-1.
As anticipated, Monarch faced a far tougher matchup than they had in their five previous games, as RCS challenged the Coyotes on both the offensive and defensive ends of the ice, holding them goal-less in the first period and creating many offensive opportunities for themselves.
As the game moved into the second period, however, the dominance of the undefeated Monarch squad began to shine through. The offensive attack began to open up, with the Coyotes dominating possession and rarely giving Resurrection a chance to penetrate the net, let alone a scoring opportunity. Not long after Monarch found their momentum, senior captain Jake Young found the net twice to put his team in command.
"It's always a team effort," said Young. "My line mates fed me some passes. I got lucky tipping (a goal) in, and everyone was just working hard." Young continued his impressive start to the season on Friday, as he has been a major factor in helping Monarch outscore their opponents by a total of 68 goals, including two 18-0 victories.
Monarch continued to dominate into the third period, as forward Brendan VanHaute punched in another goal, while the defense allowed the only Cougar goal of the night.
"It was a great win," said senior defenseman Keegan Lewis. "We just need to keep it going. We need to fight for our wins."
Going forward, the Coyotes will continue to play through a vigorous and demanding schedule, including highly anticipated matchups against undefeated Cherry Creek and Ralston Valley.
"We just need to keep pushing no matter who we play," said Young. "We're just trying to win hockey games, trying to be the first seed with home ice in the playoffs. No matter who we play, we need to keep moving forward night in and night out."