Right on track
Monarch track athletes strive for state
Hurdles
Catherine Campbell '25 leaps over a hurdle at full speed, spikes catching as she lands and times her steps for the next hurdle.
Only a sophomore, Campbell already has ambitious plans for this season.
"I'd like to make it to State in the 300 meter hurdles and I'd like to help get the relay team to State as well," Campbell said.
She attributes her success to the coaching and weight training in the track program.
"Our lifts are designed to help us and they're based on the practices that we've had," Campbell said.
Long Jump
Sand scatters as long jumper Levi Hoenninger '23 lands in the sand pit.
During Hoenninger's final season for Monarch, he hopes to make a mark in more than one event.
"I want to try to break some of the school records hopefully, and I want to make State for the long jump and for the 400 meter dash," Hoenninger said.
Sprints
Noah Holmberg 23' explodes out of the blocks, gaining momentum with every stride.
"I wanted to get into a community that was also as athletically competitive as I am," Holmberg said.
Holmberg encourages all athletes to join the track program.
"Every other sport should run track because it helps with your explosiveness, endurance, and agility," Holmberg said. "It just strengthens every part of your body in ways that you don't really think about."
Pole Vault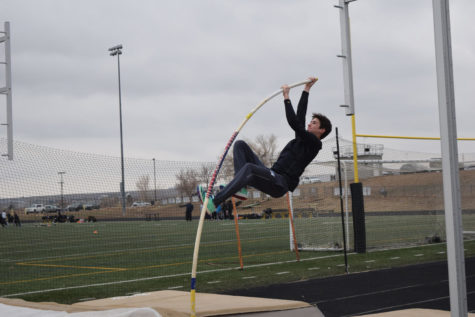 Tyler Rowan '24 is determined to be successful this season.
Even when Rowan reaches an important goal, there's always a new one for him to aim for.
"Every time I get a PR or a goal that I'm trying to achieve, I'm happy for a second, and then I'm onto the next one," Rowan said.
To Rowan, the best part of pole vaulting is the unlimited potential to grow and the infinite goals to reach.
"I love never being satisfied," Rowan said.