Drive Thru Drive-bys
These are the best places Louisville to get something sweet without ever leaving your car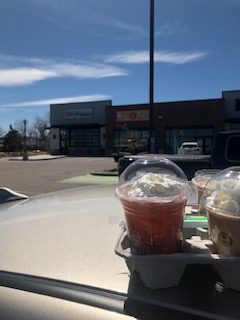 As popular restaurants and food chains transition from a packed interior to delivery and pick-up, some establishments need to be recognized for their hard work, dedication and integrity doing so. In Louisville and cities surrounding it, there are many cafes, coffee shops, and restaurants that have now resorted to using solely Drive-Thrus. I drove to five different places and ranked them based on my personal experience. Here are my results:
1st Drive-Thru: Ziggi's Coffee, 1055 Courtesy Rd, Louisville, CO 80027
The order: Midnight berry Italian soda with light whipped cream
Ziggi's is one of my all-time favorites for fun and amazing drinks, and this order was by far one
of the best I've ever gotten. The berry-flavored Italian soda was fruity and refreshing, with a
dollop of whipped cream on top to add sweetness and make it creamy. Since the interior of the
coffee shop is off-limits to customers, people are able to walk right up to the drive-thru window if
they ever find themselves without a ride to get there. The Ziggi's Coffee app is now a permanent
resident of my phone, as this comes in handy for paying ahead of time with no contact through
handing money to servers.
2nd Drive-Thru: Dairy Queen, 305 Exempla Cir, Lafayette, CO 80026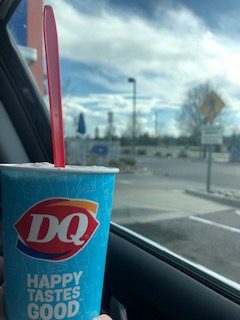 The order: Cotton candy Blizzard
This delicious and crave-able treat was filled with crunchy cotton candy morsels that were the perfect amount of sweet but not enough to be sickening. It was very satisfying and the order came out quickly! Unsurprisingly, there were many cars in line for their desserts of choice, but it went by very fast and the servers quickly and efficiently made our orders and we were on our way back home within less than five minutes of ordering.
3rd Drive-Thru: Starbucks, 459 McCaslin Blvd #7, Louisville, CO 80027
The order: Iced Cocoa Cloud Macchiato
It's interesting to see the usually-bustling Starbucks Coffee resorting to only drive-thru and delivery. They've creatively moved their usual last-minute cookies, gum, and candy to the drive-
thru window instead of by the register. The Starbucks app made it easy to place our orders and pay before leaving the house to pick up our drinks without unnecessary contact. There was some construction blocking the front of the drive-thru entrance, which made it hard to pull in. However, once we got through our drinks came out very quickly. The layered Cocoa Cloud Macchiato was cold and sweet with the perfect amount of chocolate, espresso, and whipped
cloud foam to add some extra goodness.
4th Drive-Thru: Burger King, 1325 E South Boulder Rd, Louisville, CO 80027
The order: Chocolate sundae
The vanilla soft-serve with chocolate drizzle was delicious, and it was a perfect portion in my cup. However, I would have liked a little more chocolate syrup throughout the sundae! The servers working were very conscious of the cleanliness and went to all means to make sure there was hardly any contact with customers. There was even a bin used to pay for and hand our food to us without any direct contact.
5th Drive-Thru: Sonic Drive-In, 305 Exempla Cir, Lafayette, CO 80026
The order: Strawberry slushy with Nerds
With the option of Drive-In in addition to their regular drive-thru, Sonic is a very convenient option. From burgers to mozzarella sticks to slushies, whatever you're craving can either be handed to you through your window or brought out to your parked car. However, I was slightly disappointed with my order because they forgot the nerds, the most exciting part! Aside from this, the slushy was flavorful and refreshing with pieces of fresh strawberry to add to the
experience. This wasn't the best experience due to the fact that I didn't receive exactly what I had ordered, but it was a pretty solid slushy regardless.
Much thanks to everyone working at Ziggi's, Dairy Queen, Starbucks, Burger King, and Sonic!