Ariana Grande — My Everything REVIEW
Ariana Grande – Pop's new golden girl, a successful actress, and a sex god in her own right has something that sets her apart from most females predominant in today's gossip: She has a natural aptitude for the spotlight, mainly due to her fiery,  spirited vocals that stand out as some of the best in pop music currently. That's right kids, she's no Kardashian, Jenner, or [insert name of popular female in pop culture because I'm clueless].  Grande' debut LP Yours Truly dropped only last year, and while the album impressed me as a vein of well executed, hook abundant pop, it felt as if many of the songs followed similar conventions – Making it difficult to appreciate as a whole, rather than the basis for a couple singles. I delved into My Everything with the hope that Grande would expand past her traditional blueprint, rather than following in the footsteps of the song prior. This, unfortunately, is not the case. While My Everything at times demonstrates an artist at the top of her craft vocally, the album as a whole fails to shatter the idea that records are no longer made to be played from start to finish; seeing as only around half of this LP is memorable, with the rest consisting of underwhelming, hushed up songs that never really fall short, but rather don't try very hard.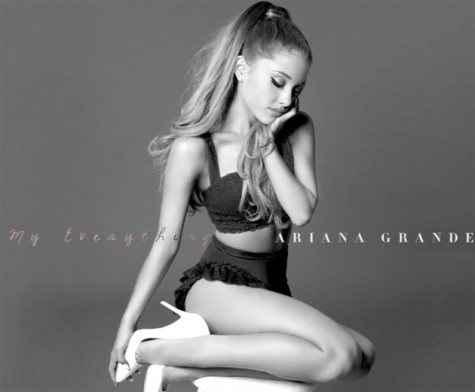 There are three faces to My Everything. One) Highway screamin', potential radio hits. Two) Production rich collaborations. Three) Lackluster, underbearing songs with little weight. Let's start with the first one. Half the reason this record will likely be so successful is due to the successful airplay of "Problem", a sonically well constructed song that introduces its verses with a sleazy, George Micheal saxophone taper and rides off the glory and confidence of Grande's superb vocals. When you put aside the fact that this song is grossly overplayed, it really is an electric strike into the promiscuous fury of pop music. Iggy Azalea's contribution doesn't really tarnish the song or boost it – The real highlight here is Ariana Grande's golden pipes. The only other track that belongs in this category is "Hands On Me", a sexually electric song that's far more conventional and uninteresting than "Problem", and if anything, the track is brought to feverish feats with A$AP Ferg chime ins. That's what the radio wants though, isn't it?  My Everything's real thunder lies in its fruitful collaborations. Assistance from A$AP Ferg, Iggy Azalea, and Big Sean can be forgotten, but the charged, cosmic production from Zedd and Cashmere Cat contribute some of the finest moments to Grande's sophomore endeavor. "Break Free" with Zedd has excessive radio play going against it, but the German producer's phaser beam, cosmic production gives the song a sense of dance floor personality that should please fans of these pulsing, synth stained drops – However, others need not ( or would desire to) apply. "Be My Baby", a song graced by the touch of the producer Cashmere Cat, is easily one of the best songs on this LP, and if this song were to find airplay, then chances are it would grant Grande a newfound fame. Cashmere Cat contributes sharp, atmospheric production that renders "Be My Baby" a phenomenal addition to My Everything.

Republic Records

 However, despite the high points, The remainder of this LP fails to do anything with what it has. Songs like "One Last Time", "Why Try", and "Best Mistake" with Big Sean are stock full of sugary hooks, but they never expand past their conventional formulas, and for most these songs will be instantaneously forgotten. "Just A Little Bit Of Your Heart" and title track "My Everything" are poignant and emotional, but at times the melodrama can soak their original intent. Overall, My Everything is a glossy endeavor that has its share of high points, but as far as being extensively memorable, most of these songs will be overlooked in the grand scheme – With the exception of sleeper hits like "Break Your Heart Right Back" and "Be My Baby", Ariana Grande's sophomore effort is only half successful.

Score: C

You can pick up My Everything everywhere now!
Leave a Comment