Introductions: Thirteen Counting Crows Essentials
Must hears by the renowned alt-rock outfit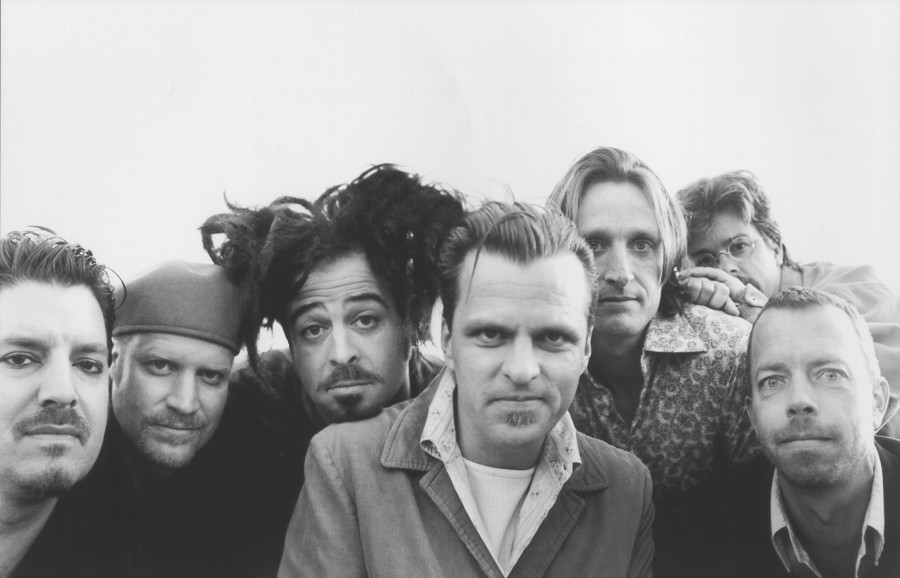 The Counting Crows' success story is one that musicians revere and envy. One of the most popular bands in alternative rock today and a group that defined the '90s with hits like "Mr. Jones", "Round Here", and "A Long December", the group began to take shape in 1991 when vocalist Adam Duritz and guitarist David Bryson began playing acoustic throughout San Francisco. Over time, the lineup grew as Charlie Gillingham joined as the group's keyboard player, Matt Malley as bassist, and Steve Bowman as drummer, and it hadn't been more than three months as a band when they scored a signing with Geffen Records and released the renowned and generation defining August and Everything After in '94.
The Crows' emotionally mopey and melodically rich music found comfort in Americana and contemporary classics like Bob Dylan and Van Morrison, while infusing a taste of post-rock, and despite the band's lack of conformity to popular '90s music, fans of all genres came together and appreciated the band's intimate and artful debut which came to sell nearly ten million copies. From the depersonalized and sentimental ballad "Round Here", the dreary and locked-in "Perfect Blue Buildings", the smash hit about the tangible desire for fame "Mr. Jones", or the pleading yet infectious "Rain King", August and Everything After was an entirely consummate debut for such a young band with so much ahead of them. The Counting Crows became monumental, and the line "Hey mister/You don't want to walk on water/'Cause you're only going to walk all over me" from "Omaha" suddenly became invalid, because The Crows came out on top.
The band's follow-up Recovering The Satellites was not nearly as successful as August, but the record debuted at No. 1 for a week, went double platinum, and boasted some of the band's best songs yet; most notably the sharp yet sincere "Angels Of The Silences" and the new year anthem "A Long December". Although it would be a long time until The Counting Crows released another August and Everything After, the group remained consistent with their next two records: This Desert Life and Hard Candy. These albums were far more radio driven at times, and though they each had marvelous moments, they were far weaker in vision and execution compared to their early work.
After 2002's Hard Candy, the band waited six years to release another album, and the result of that empty space was Saturday Nights & Sunday Mornings, an album that frontman Adam Duritz wrote almost entirely about his struggle with depersonalization disorder: a defense mechanism resulting from anxiety where one can feel detached from themselves, their emotions, and the world. While the record was not met with the critical praise that was known to follow the band, it was an entirely personal and revealing effort that explored many different musical spirits.
After Saturday Nights, the band waited six more years to release more original music, though they were actively touring and even recorded Underwater Sunshine (or What We Did On Our Summer Vacation): a superb anthology of covers. Their last record, Somewhere Under Wonderland, was their most critically successful album since August, and while the album had some radio-ready hits, many of the songs were driven by brilliantly disheveled narrative characteristic of Bruce Springsteen's debut Greetings From Asbury Park. Often telling a misplaced story throughout, Wonderland soared with songs like the buoyant and desperate "Earthquake Driver", the transcendental acoustic number "God of Ocean Tides", and the lengthy, cinematic lead single "Palisades Park".
A prolific band like The Counting Crows has been around the musical block many times, and they have many tremendous and softhearted songs to fall for. Here's ten must hears.
Up All Night (Frankie Miller Goes to Hollywood) [Hard Candy, 2002]
One of the highest points on 2002's Hard Candy, this song hums of spontaneity and adventure to a charming circus of instrumentation, flaunting one of the Crows' finest keyboard leads as the song consistently dreams bigger and bigger.
Angels Of The Silences (Recovering The Satellites, 1996)
One of the band's sharper rock songs, this song balances affection and the misplaced connection that the band frequently professes of in a way that have this song soaring.
Round Here (August and Everything After, 1994)
"Step out the front door like a ghost into a fog where no one notices a contrast of white on white", Duritz sings to a simple guitar lead as this momentous song begins. "Round Here" kicked off August and Everything After back in '94, and the narrative on this track is detached and melancholic, beginning to suggest the break from reality and people around you that August and Everything After professes of. "Round Here" is somewhere in-between a solemn dream and a love song, but the certainty is how undyingly moving it is.
Mrs. Potter's Lulluby (This Desert Life, 1999)
This song is one of Duritz's finest lyrical achievements, as well as a standout song on This Desert Life. "If dreams are like movies then memories are like films about ghosts", he sings to a buoyancy of keyboards and guitars to a song with Bob Dylan's charmingly-redundant structure and a never ceasing brightness.
A Long December (Recovering The Satellites, 1996)
A new-years day anthem for many looking for a fresh start, "A Long December" is one of The Crow's most memorable songs due to it's immediate emotional poignancy and genuine voice. If you listen to this song at the beginning of every year, you'll become far more hopeful and optimistic about what's to come; I promise.
Have You Seen Me Lately (Across A Wire [Live In New York])
This song originally appeared on Recovering The Satellites in a heavy and gritty form that shrouded it's monumental emotion, and this live acoustic version does it more than justice. Duritz sings of loneliness and distance from reality with a gnawing sense of experience and sadness, and the result is heartaching yet moving. "Color me in/Gimme your blue rain/Gimme your black sky/Give me your green eyes", he sings as he pleads for re-connection.
Rain King (August And Everything After, 1994)
On this song, desperation and distance from your potential are expressed in a bright and luminous matter that's impressive considering the themes. While many of The Crows songs are notoriously mopey and heart-knotting, "Rain King" is infectious and equally empowering due to it's bright optimism where the song's mechanics nest.
God Of Ocean Tides (Somewhere Under Wonderland, 2014)
This found a place among my favorite Counting Crows song only halfway through the first listen. An emotional masterpiece of cathartic, blissful, and adventurous proportions, this song hits right where it needs to: the open road.
A Murder of One (August And Everything After, 1994)
As a whole, August and Everything After is the account of losing one's mind, and "A Murder Of One" is the song where it all comes full circle with the realization that wallowing in desperation will only thrust you deeper into the ground. The song is also pure poetry, hitting the emotional pressure points with lines like: "I walk along these hillsides in the summer 'neath the sunshine/I am feathered by the moonlight falling down on me."
Palisades Park (Somewhere Under Wonderland, 2014)
Named after an amusement park in New Jersey that closed in '71, this is one of The Crow's most transverse and eclectic songs, undergoing multiple switches in rhythm and melody as it tells the story of two teens struggling with dreams, identity, and belonging. At around eight minutes with no repeating verses or choruses, this song is simply too complex for the radio; it's immensely prolific.
Mr. Jones (August And Everything After, 1994)
You know you've heard it and sing along to the introductory "sha la la la la la"'s whenever it comes on. The Counting Crows' most cherished song and a defining record of the '90s, "Mr. Jones" chronicles the young desire for fame with charm and massive expectation ("When everybody loves you, you can never be lonely"). The song boasts the big dreams of youth in a way that can never be ignored.
When I Dream of Michelangelo (Saturday Nights & Sunday Mornings, 2008)
A lovely tune of beautiful, fluid acoustics and piano riffs, this is a song that can make a spout of daydreaming really count.
Anna Begins (August And Everything After, 1994)
An all around emotionally and sonically immersive song, "Anna Begins" is a painfully overlooked slow-burner that especially soars when played live or acoustic. It takes some time to really plant a seed and sprout, but when this song is realized clearly, it splits a rift in the sky and yanks you right in.
Leave a Comment