Introductions: Fourteen Essentials by The Replacements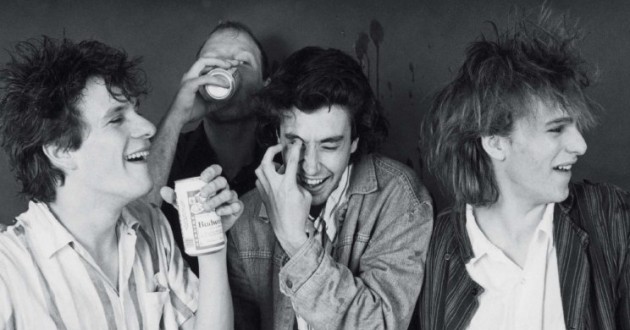 Being young is all about exposing yourself to different worlds, cultures, and people in a grand scheme to ultimately shape yourself. I've fallen in love with countless bands and eras of music throughout my adolescence, and they've all left a significant mark on my taste and who I'm ending up to be, but few of these flings last– Nonetheless, one band that I can't ever see myself getting over is The Replacements. Known for their forcibly injected, and self destructive yet tender emotional ethos from singer Paul Westerberg and their shimmering, bratty 'I-don't-give-a-rat's-a**' attitude, The Replacements are one of the most esteemed rock bands of all time; at least by those who have dug deep enough to appreciate them.
The Replacements are commonly referred to as "the band that never made it", which is a righteous title considering their constant shoves for mainstream success always fell through. The band formed out of Minneapolis, Minnesota in 1978 when brothers Bob (19 at the time) and Tommy (11 at the time) Stinson began playing music together, eventually recruiting the drummer and High School dropout Chris Mars. The three met the famed eventual frontman Paul Westerberg, a janitor at the time, when he overheard them playing in a garage on his way home from work. Westerberg became the lead singer soon after, and in 1980 the band signed to Twin/Tone Records and delivered their first record Sorry Ma, Forgot To Take Out The Trash the following year. As the outfit continued to perform and release music such as the all-in, relentless EP Stink in 1982 and '83's full length followup to Sorry, Ma— Hootenanny– They began to gain following outside Minnesota, playing shows across the United States.
However, it wasn't until they released 1984's Let It Be— a softer, bluesier, and more carefully crafted endeavor that received incredible critical praise and exposed the band to interested labels. They released their major label debut Tim on Sire Records in 1985, and the album showcased a new-found focus on swinging acoustics and a more welcoming delivery. The band's sound became friendlier, yet it still retained the bratty, mistfit spirit their earlier releases exemplified. In '86, the band was permanently banned from Saturday Night Live after playing a drunken, disheveled rendition of "Bastards of Young" wearing each other's clothing, an incident that only added to the band's bratty public image that the Sex Pistols would be proud of.
The softer musicial concept introduced on Tim continued on '87's Pleased To Meet Me, which contained some of The Replacements' best songs yet; the affectionate warmth of "Skyway", the infectious "Can't Hardly Wait", and the flaming Big Star tribute "Alex Chilton" still being favorites today. After that, The Replacements' albums are largely considered stabs for mainstream success, though this desire rendered some of their best material yet. '89's Don't Tell A Soul found a balance between the outfit's punk-rock roots and the inviting qualities of radio-rock, and '91's All Shook Down– although recorded with Westerberg's choice of session musicians rather than the band– received strong critical praise.
Disaster stuck when the band broke up onstage in Chicago in 1991, leaving Paul Westerberg to launch a moderately successful solo career where he'd go on to drop fantastic records such as Eventually, Suicaine Gratification, and Stereo. The Replacements reunited in 2012 at Riot Fest: a popular music festival that makes a stop in Colorado every year. Since the reunion, they've began touring again, and even announced a show at Denver's The Fillmore on April 19th.
The Replacements were the band who never quite knew who they were. While this could be criticized, this lack of identity gives their catalog unprecedented diversity between releases as they tried to find a musical niche for themselves and make it big at the same time. Check out fourteen essential songs by the band below.
I'm In Trouble (Sorry Ma, Forgot To Take Out The Trash — 1981)
This is one of the The Replacements' best early songs, as they floor it into angsty, adolescent punk territory that could easily be the soundtrack good, 'ol fashioned parental nagging.
Kids Don't Follow (Stink — 1982)
Legend has it that this song opens with an actual recording of a party getting busted by local police, and that possibility only adds to this song's relentlessly angsty charm where the band takes three minutes to flat-out defy authority in a fit of teenage rebellion that could set an example for future generations.
Color Me Impressed (Hootenanny — 1983)
Most of the band's earlier material makes an extra effort to soundtrack reckless teenage partying, and "Color Me Impressed" is one of the last glimpses at this lovely immaturity. "Everybody at your party/They don't look depressed/Everybody at your party/Color me impressed…"
Treatment Bound (Hootenanny — 1983)
  A hidden little gem at the end of Hootenanny, this low-fi acoustic track continues to illustrate youthful desperation, recklessness, and deadbeat dead ends; without a doubt, a theme The Replacements excel at delivering.
I Will Dare (Let It Be — 1984)
This song kicks off what many consider to be one of the best records of the '80s, Let It Be. The song offers a more calculated, melodically thought out approach than the band previously embraced, and it really marks The Replacement's first step into a more mature, refined sound. The lead guitar on this song compliments Westerberg's vocals as he questions his place beside straighter members of society. "How young are you/How old am I/Let's count the rings around my eyes/How smart are you/How dumb am I?".
Unsatisfied (Let It Be — 1984)
This song takes the classic direction of "I can't get no satisfaction" and gives it an unprecedented rendition of desperation and agony as to where bliss went to hide. The acoustic lead on this track is immediately alluring, and contributes a certain degree of emotional warmth throughout as Westerberg wallows on dissatisfaction instead of aiming to solve it; accurately depicting that frame of mind and the commonplace fixation towards emotional in-balance.
Sixteen Blue (Let It Be — 1984)
Continuing the self-doubt that encompassed Let It Be, "Sixteen Blue" takes misplaced teenage strides into sexuality, at one point suggesting "You're wondering to yourself if you might be gay". There's something so tangible about this song as Westerberg steps into a young teen's shoes and walks around, questioning their surroundings to an amiable backing of soft punk-rock.
Bastards Of Young (Tim — 1985)
This is an all out '80s rock song, infecting the listener with chugging riffs and sweeping lyrics that encircle the skirmishes of your typical misfit. "Unwillingness to claim us/Ya got no war to name us", Westerberg sings with fury and a certain degree of pride.
Here Comes A Regular (Tim — 1985)
The unintentional anthem of everyone who can't stop spending their days on bar stools, "Here Comes A Regular" is an absolutely heart-breaking song that throws you in the midst of desolation without any means to defend yourself.
Alex Chilton (Pleased To Meet Me — 1987)
Alex Chilton and Big Star go under-appreciated enough as is, so The Replacements' rockin' tribute to their music rings as one of The Replacements' finest tunes, as well as an incredibly successful piece of musical recognition. "If he were from Venus would he meet us on the moon/If he died in Memphis that'd be cool."
Can't Hardly Wait (Pleased To Meet Me — 1987)
One of the most upbeat songs about depression out there. The horns add a matchless touch to this one; you can't help but to listen to it and understand why it was such a hit in '87.
Skyway (Pleased To Meet Me — 1987)
An appetizing acoustic ballad that shows an undeniably sincere side to this notoriously angsty band, "Skyway" doesn't waste a second of sweetness.
I'll Be You (Don't Tell A Soul — 1989)
A warm-blooded rocker that specializes in themes of boredom and disconnection from yourself, this track manages to be infectiously catchy and also lyrically dense at the same time with lines like "A dream too tired too come true/Left a rebel without a clue/Now I'm searching for something to do."
Rock 'N' Roll Ghost (Don't Tell A Soul — 1989)
There's something eerily captivating about this track, likely due to the fact that it deals with the loss of 'yourself' when fame has you constantly scrutinized. It's an interesting song because Don't Tell A Soul is widely regarded as The Replacements' "please-let-us-be-mainstream" record, so it really brings up the question of whether Westerberg was unhappy with the moderate fame, or he was writing from the perspective of himself if the band ever made it.
Leave a Comment