Track by Track: Drake Bell – Ready, Steady, Go!
Drake Bell's throwback '50s anthology sounds to have been pulled off the racks of a jukebox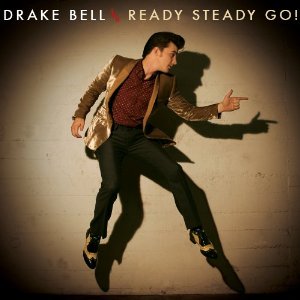 Image Credit: Surfdog Records
Former Nickelodeon superstar Drake Bell has been established as a talented musician for years now, having released multiple albums under the network, and It's Only Time through Universal in 2006. In the past, he's professed his love for '50s culture and rockabilly, and Ready, Steady, Go!, his Surfdog records debut, spins like a swinging, remastered LP straight out of the era. Ready, Steady, Go! is strewn along with covers of 1950's jukebox classics and throwback original songs.
Sunny Afternoon: This doo-wop introduced song is caught rippling with it's diner-piano melodies coursing throughout the chorus, Bell's voice transmitting a breezy, carefree sensation which coincides with the typical morning sunrise opening of a record. This song lays out exactly what Ready, Steady, Go! is about; the swings and twists of the iconic Rockabilly era.
Bull: A rockabilly-stained slide riff has this song sterling from the start, followed by a faded EQ which makes Bell's voice resemble the grooves and pops on an LP. "Bull" is roaring and rushed in the most ideal way possible, and when it finally hits the finish line, you're already missing it's cherry red rhythms.
I Won't Stand In Your Way: This Stray Cats cover demonstrates Bell's vocals flawlessly, achieving an impeccable '50s aesthetic with it's sock hop slow-dance sound.The song is so well done, the fact that his version fails to make much of any distinction from the original isn't even an essential detail – Seeing as Brian Setzer himself, frontman of the Stray Cats, played on this record.
Bitchcraft: The lead single rocks a saucy fiddle and gospel-style background vocals to accompany Bell's romantic exit plead; one of the most distinctive songs on the album.
Runaway Boys: This song's fallout is that it's essentially a remastered carbon copy of the Stray Cats' version, making it a lackluster, yet musically competent endeavor.
Makes Me Happy: Fans of Drake & Josh will jump at the first note of this song – An old song of Bell's which made it's way onto the TV show, only this time with a lively doo-wop twist contributing to the ambitious vintage sound. A pop song at heart, "Makes Me Happy" will have you snapping at first spin.
It's Still Rock & Roll To Me: This Billy Joel cover, just like the Stray Cats cover "Runaway Boys", fails to establish any divergence from the original, making it a 'been there, done that' kind of skip.
Melina: By far the most original song on the album, pulling the listener in with rockabilly riffs and aftertastes of sugary throwback pop. "Melina" tries exactly as hard as it should, making for one of the most satisfying additions to Ready, Steady, Go! which emblazons Bell's songwriting savvy.
Crazy Little Thing Called Love: Another cover, this one showcases the most individuality on Bell's part while maintaining it's obligatory, poppy foot tapping rhythm and adding some of the sweet sounds of rock 'n' roll.
California Man: A monstrous, nimble number; it's swiftly caliber songs like this that will make you appreciate the tremendous devotion this record has towards it's vivacious, jukebox sound.
Back Of My Hand: "I got your number written on the back of my hand," Bell utters on this concise, swaying song about a distant girl which continues the momentum of "California Man" and "Melina".
Give Me A Little More Time: This slow ballad closes Ready, Steady, Go! on an impassioned note as Bell recounts a tale of heartache and heartbreak. The song wraps up the splendidly classic impression he intended to make with this album.
Ready, Steady, Go! has an incredible respect for the genre and culture it's paying tribute to, and it's sure to establish Drake Bell as an icon in the spectrum of 2014. At times, the record's covers spin like duplicates, but he makes up for this with his flair for writing an accomplished song. Rockabilly and the '50s groove have been brought back to life by Bell on this first rate release – Some of the best 2014 has seen.
B+
Ready, Steady, Go! is out today through Surfdog records. 
Be sure to listen to: "Melina", "California Man"
Surfdog Records
Leave a Comment