Album Review: Nina Nesbitt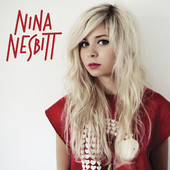 Image and Video Credit: Universal Island Records
Nina Nesbitt has been prospecting favorable ears in the U.K. for the past couple years, bordering on the edge of pop with a charming, acoustic twist that's grown to set her apart from many other rising, female singer-songwriters. Her self-titled US debut, a flourishing selection of songs which serve as the backbone for her knack for songwriting, aspires to make her presence known overseas, and it's satisfyingly prosperous at doing this.
Nesbitt does not attempt to distance herself from her audience in these songs that encompasses the wit of youth with the occasional tidal wave of syrupy, sentimental kerosene. There's a wide amount of quirky individuality in these songs, whether it's a critique of modern youth in "Stay Out"; "He's got a rolling stone tee/But he only knows one song" as sunny guitars escalate to ferocious strumming in the chorus. However, this song rolls into a pattern, stemming a chorus that sounds abundantly similar to "The Apple Tree" and "Boy" – Leaving only the cheery background vocals in "Stay Out" to make it stand out from the two other songs.
Nesbitt picks up, or rather slows down, on the tearjerker "Just Before Goodbye", a song that begins as the lone, merely acoustic number that it would spin better as. After a short while, the track begins to retreat back to the cheery, stomped out Mumford and Sons esque choruses while watching its thunder fade out with some out of place lap steel in the foreground. "Statues" shakes the EP up with its piano ballad framework, and the cloying theatrics which border on sappy make it the most unprecedented song on Nesbitt's US debut.
Nina Nesbitt has released an excellent batch of songs on her oversea debut, but when the tracks are put side by side, the talent and inventiveness is partially lost in their similarity. The pop-hearted "Way In The World" and the infecting piano ballad "Statues" mark the uncalculated shift in style that often characterizes an EP at its strongest, but there's still some honeyed pleasure in the other four.
C
Replay Value: Moderate to Low
Listen to: Stay Out
Leave a Comment