Balloon Boy Soars on Opening Night
Fly up, up and away with 'Balloon Boy: The Musical'
"No one ever said fame was easy, but no one ever said it was impossible either," professes Balloon Boy: The Musical in the opening monologue.
The Monarch Theater department's Fall production Balloon Boy opened last night, and the play soared from start to finish. This satirically poignant and charmingly comedic production features a cast of students of all grade levels.
Starring Solomon Abell as Robert Heene, Elise Falkenstein as his wife Mayumi Heene, and Will Bangs, Mikayla Aiken, and AJ Biffl as their three children, the musical follows the story of a fame-hungry family driven by their insane yet charming father (Abell) and their eventual faking of the balloon boy incident that made headlines worldwide. Abell's performance is jaunty and sharp as the neurotic father behind the incident, leading the stage and driving the comedic script forward, as his children (Bangs, Aiken, and Biffl) stand behind them throughout the hoax. These three characters contribute a terrific slapstick spirit to the story. Mayumi's character is written to be subdued, but when she takes the stage, she steals the show with Falkenstein's towering, melodically-sharp vocals and tongue-in-cheek performance.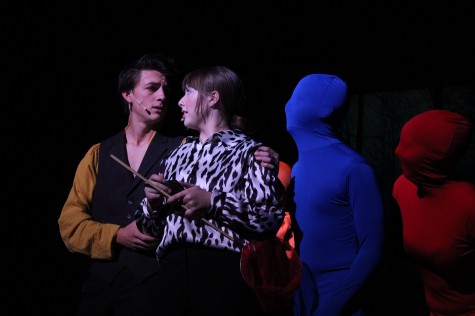 Balloon Boy parodies many fixtures in current popular culture, ranging from Snooki (senior Stephanie Saltis) to Miley Cyrus (senior Kate Yeash); each satirical cameo there to support the play's views towards the 21st century media and how the public's perspective on the famous can shift from good to bad instantaneously.
However, the real star of Balloon Boy is Billy Recce and his incredibly intelligent and successfully comedic writing. Written by seventeen year old Billy Recce who began writing the play at 11 years old after being emotionally stirred by the real-life balloon boy incident in Fort Collins, this play never failed to ensue a laugh in the audience. From beginning to end, electrifying and hilarious dialogue is exchanged between each character, and a dull moment never strikes; Recce is an imaginative, charismatic writer who provides this production with a nimble, fiery pulse. Recce also wrote all the music, which is in turn performed by junior Oliver Ullman, giving the production a buoyant, audacious charm.
You can see Balloon Boy at 7PM tonight (11/7) and Saturday at 2PM and 7PM.
Be sure to check out MoHi's latest theatrical endeavor; it's not to be missed!
Leave a Comment