Cold War Kids — Hold My Home REVIEW
California indie-rockers step back in dynamic, style, and holistic integrity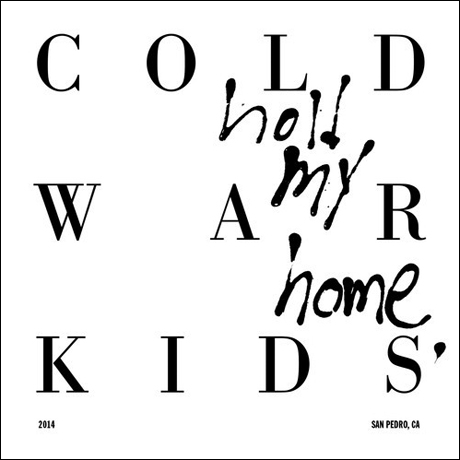 Since the release of their renowned debut Robbers & Cowards in 2006, Cold War Kids have constructed a sturdy home in the indie rock scene, consistently building upon their reliable musicianship with albums like Loyalty to Loyalty, Mine Is Yours, and Dear Mrs. Lonelyhearts: The band's breakthrough LP released last year that framed the hit single "Miracle Mile", which spread through the veins of airwaves for months. Cold War Kids can always be counted on for an attitude stricken, dance-beaten, blues-rock immersion; Nathan Willett's smooth, fiery vocals always there to narrate the strife of a relationship and cascade the dynamic instrumentals together.
Recorded in their private studio in San Pedro, California, Hold My Home, the band's new endeavor that drives to replicate the success of "Miracle Mile" while maintaining their signature, pulsing charisma, is a significant step back in dynamic, style, and quality. Favoring the radio-charm of synthesizers rather than guitars, this LP consistently stomps out the lightening it claims to have made in the sky. More often than not, these songs take on a plain-white aesthetic of soulless synthesizers and put off an aura of insincerity and stumbling vision. The lead single "All This Could Be Yours" emits an overbearing sense of hope with the savvy piano melody introducing it, but as it floods through it's runtime, it becomes the poster boy of what to expect from Hold My Home; airily polished synth rock that often lacks a pulse. Songs such as "Hotel Anywhere", "Nights & Weekends", "Hold My Home", and "Flower Drum Song" eventually fall flat in a storm of muddy synthesizers that fail to charm the songs in any way — An unfortunate trait of this LP.
It's worth noting the high points of Hold My Home, as Cold War Kids have still retained a measure of their traditional expertise on this record. "Driver Desperate" fuses the synthesizer focus the LP centers around while making room for a bustling shelf of enamoring guitar work; two qualities which drive the chorus and bridge out of the park, making this song one of the album's most memorable. "Harold Bloom" is a low-key hymn of effortless sincerity that clears the air, clouded by many of the prior songs. Streaked by soulful falsettos and luminous piano riffs, Willett soars: "Don't let your innocence go dry before the flood" on the chorus. "First" is also an enjoyably sweet gem on the record, and although it seems to be built from recycled, radio cliches, Cold War Kids manipulate the conventions to make the song their own.
Holistically, Hold My Home is a sludgy return to the field for Cold War Kids; this LP is more likely to appeal to listeners just breaking into the vapidness of indie-rock from the radio; others need not apply. Cold War Kids appear to be trudging through a creative fit as this record tries to maintain the band's roots while also shattering the looking glass of mainstream success.
Score: C-
Listen to: "Driver Desperate" and "Harold Bloom"
Downtown Records
Leave a Comment