The Maine Tease Their Upcoming, Fifth LP 'American Candy' with "English Girls"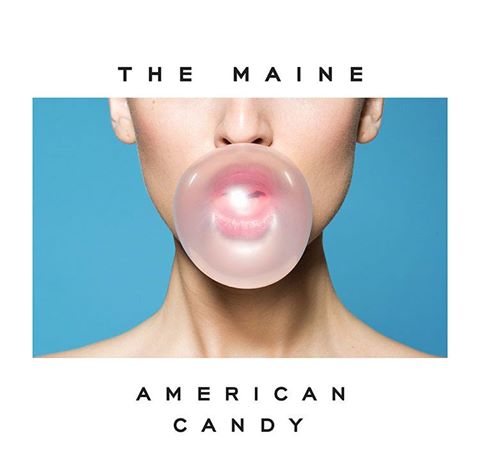 The evolution of The Maine's music from the beginning of their career to now is stellar. With roots in glossy pop-rock that's traced out on the albums Can't Stop Won't Stop and Black & White, the band embarked on a stylistic revolution in 2011 with Pioneer; a warm and versatile rock & roll record that took them from a small name to a smaller name, releasing the album independently and dropping their label. Since then, The Maine have been dishing out immense, honest material in the alternative rock vein without any guidance from outside songwriters or industry voices; a method which has allowed their music to charm more and more with every release starting at Pioneer. The band's most recent LP Forever Halloween (2013) tied dark knots, utilizing moonlight and careless themes of youth to create one of the best albums of the year. However, it's out with the old and in with the new, and to follow Halloween comes American Candy– right by it's side, the lead single "English Girls".
"English Girls" immediately introduces American Candy on the brightest of tones, as the song glides through debauched themes of girls, girls, girls, and well– more girls. While this theme is wholeheartedly overused, The Maine execute it with a diverse pallet of charm as buoyant, pop-rock guitar leads, promiscuous bass lines, and rich percussion drip like honey throughout each verse and chorus. The hook bellows: "She said 'English girls they just like sex'/I couldn't believe when he said 'I've got news for you'/American boys do too", rendering frontman John O'Callaghan's vocals in upbeat disbelief. Although the lyricism is simple, the song has all the qualities of a strong single and never stomps out it's rambunctious spark.
American Candy drops March 31, and until then, you can pre-order it on CD and LP, or bundle the album with merchandise from the band over at their website. The Maine are headed out on the American Candy tour this April and May with Real Friends, Knuckle Puck, and The Technicolors so check out the dates below! The band stops by Denver at The Summit Music Hall on April 18th.
April 3, 2015 Fri Tempe Arizona The Marquee Theatre
April 4, 2015 Sat Anaheim California House of Blues
April 8, 2015 Wed San Diego California House of Blues
April 10, 2015 Fri San Francisco, California Slim's
April 11, 2015 Sat Sacramento, California, Ace of Spades
April 13, 2015 Portland, Oregon, Hawthorne Theater
April 14, 2015 Tue Vancouver BC The Rio Theatre
April 15, 2015 Wed Seattle Washington El Corazon
April 17, 2015 Fri Salt Lake City Utah The Complex
April 18, 2015 Sat Denver Colorado Summit Music Hall
April 20, 2015 Mon Lawrence Kansas Granada Theatre
April 21, 2015 Tue St. Louis Missouri The Ready Room
April 22, 2015 Wed Milwaukee Wisconsin The Rave
April 23, 2015 Thu Minneapolis Minnesota Varsity Theater
April 24, 2015 Fri Chicago Illinois House of Blues
April 26, 2015 Sun Pontiac Michigan The Crofoot
April 28, 2015 Tue Columbus Ohio Newport Music Hall
April 29, 2015 Wed Cleveland Ohio House of Blues
April 30, 2015 Thu Pittsburgh Pennsylvania Altar Bar
May 1, 2015 Fri Buffalo New York The Waiting Room
May 2, 2015 Sat Toronto Ontario Danforth Music Hall
May 3, 2015 Sun Syracuse New York The Lost Horizon
May 5, 2015 Tue Boston Massachusetts House of Blues
May 7, 2015 Thu New York New York Best Buy Theater
May 9, 2015 Sat Philadelphia Pennsylvania Electric Factory
May 10, 2015 Sun Washington District of Columbia 930 Club
May 12, 2015 Tue Nashville Tennessee Cannery Ballroom
May 13, 2015 Wed Atlanta Georgia The Masquerade
May 14, 2015 Thu Jacksonville Beach Florida Freebird Live
May 15, 2015 Fri St. Petersburg Florida State Theatre
May 16, 2015 Sat Orlando Florida The Beacham
Leave a Comment