Denver Punk-Rockers The Knew Talk Genre Clashes, Their Roots, and Their Upcoming LP
An exclusive interview with Tyler Breuer, the band's guitarist
The Knew are one of Denver's many punk-rock outfits hiding beneath the rafters, but it only takes one live set for the band to transfuse an unprecedented charm in the audience with their vivacious, sharp brand of rock 'n' roll. With their new album Schmew dropping this May and multiple shows lined up until then, The Howler had the opportunity to speak with the band's guitarist Tyler Breuer about the band's new material, the clash of EDM vs. rock 'n' roll, and being a band in Denver. Check out what he had to say below!
Hey! Thanks for speaking with The Howler. Could you introduce the band and each of your roles?

TB (Tyler Breuer, guitar): This is The Knew. It is Jake, who sings and plays guitar, me (Ty) on the guitar, Tim plays bass, Andy plays drums.
How did you guys meet and eventually form The Knew; were any of you in local bands prior?

TB: Jake and I went to college together and played in crappy cover bands in Boulder, but then moved to Denver and started The Knew with our pal and former drummer Pat. We were a 3 piece for 2005, 2 piece for 2006 (I moved), a 3 piece again in 2007 and then we added Tim on the low end later that year. Andy joined on drums in 2012. I played in other bands in school, but TK was my first band I really gave it hell in. Andy played in Only Thunder and Tin Horn Prayer.
How would you describe the band's music to someone who's not familiar with The Knew?

TB: Hmmmm… a friend recently told me we are the Allman Brothers of punk rock. But then he said we were too proggy, retracted his statement and said we were The Allman Brothers of musical theatre.
Denver's often characterized for vibrant music scene, especially in the alt-rock vein. What makes you guys proud to be centered in the Mile High City?

TB: We all got a lot invested in this town. Not like snakey businessmen, but more that we want to see it treat itself well. I'm proud that we get a say in what this place is becoming.
What are some of your favorite local groups to perform with– are there any you guys have become particularly good friends with?

TB: Totally. SPELLS, Faceman, the Outfit, Bud Bronson and the Good Timers are all good pals with us. We also dig Colfax Speed Queen, American Culture, Blue Rider, Wheelchair Sports Camp, High Plains Honky and Dragondeer.

Favorite venue to play downtown?

TB: Tough question. I don't really care for downtown Denver. I'm not particular proud of what it has become. It lacks identity. We have played the ice skating rink though, and that is a gas gas gas.
The current state of music has really left underground rock bands like yourselves on the outs of the huge, rising population of EDM music. Has this increasing fixation affected the band's turnout at shows, or have you guys been able to find a strong crowd that still loves and appreciates rock music?

TB: Good question. I dont really like when people champion one type of music by discrediting other genres. When bands say we are ROCK bands and all you folk or computer guys get lost, I think that is super insecure of them and any good song from any genre is a compliment to the creative process. I think EDM and rock should work to inform eachother – have your cake and eat it too. They dont live in conflict, so lets take what we like from each of them, create our own thing, and let other people have it (and then other other people have what you didn't dig from either genre).
How would you characterize yourselves as fans- what do you guys listen to during off time, and what bands do you find yourselves seeing live?

TB: I find myself listening to more and more music not in English. Or English that I don't understand too well. Like Dancehall. As a fan, I like listening to bands that are about as popular or whatever as us, but from entirely different scenes. I don't necessarily have to listen to a big release to be moved.
Can you name a few influences that have helped shape The Knew's sound?

TB: I am more of the pop/world guy, Jake is the blues and rock opera guy, Tim and Andy are the punk guys. I think all of those together make our sound what it is, but honest insight and being confident, excited and humble allow us to rip as hard as we want and not be arrogant.
Are there any specific issues or subjects you guys try to dig into while writing songs?

TB: As far as melodies and what I try to bring is a hook that is as challenging to our band as it is apparent to the listener. As for lyrics, it can range from the obscure to fairly direct. Queen Quiet Dynamite is a song written from the perspective of war being a person (a woman in this case) and some thoughts on what you may say if you could have a conversation with it/her. I Wanna Kill is based on the basic thought of doing all you can for someone you really care about. Stargarden is just a narrative on a classic rock fantasy sequence.
How is time spent outside of practicing, recording, and playing shows?

TB: We b**ch to each other a lot about things that piss us off. Ha. Be it music, relationships with others, or general intolerance, we air our grievances to one another regularly.
Your last LP Man Monster was easily The Knew's sharpest, most animated album yet. What's to follow?

TB: Our new LP, Schmew, is out on 5/19. Yup, you heard it right. Knew Schmew. Its pretty different from Man Monster. A little more gut to it and less ridgid. I'd say its more modern sounding. We are playing guitars that could be more qualified as "axes" then before.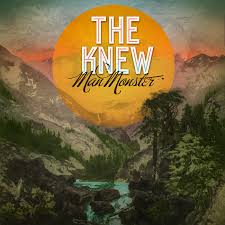 Your newest shirt reads "Get loan, buy house, pay off loan, die." The satire is rich and obvious, but do you find that music is a way to protest this?

TB: This is one for Tim, but I imagine its about growing old as a punk and not being bitter and not being cheesy. Its important to bottle up that piss and vinegar and share it with those around ya. You don't always have to be super mad about some of the truths of our current culture/society. Sometimes just being aware of and being okay with them (or at least acquiescing to them through a t-shirt) feels great.
What shows do you guys have coming up, for anyone interested?  
2/20 at the Hi Dive with our friends Dirty Few. We will have a bunch more this Spring, but our release is 5/16 at the Hi Dive.
Check out The Knew's show on 2/20 at the Hi-Dive, as well as the release show for Schmew on 5/16! Until then, keep up with the band on Facebook and Twitter for news and show announcements. 
The Band's Official Website: theknew.com
Leave a Comment