Drake Makes a Surprise Return With 'If You're Reading This It's Too Late'
Drake makes a bold, surprise comeback
Even if you don't follow Drake, you know his name. At the young age of 23, Drake rode the fame of his Degrassi run and dropped his breakthrough debut LP Thank Me Later, which featured the likes of the soulful legend Alicia Keys, Young Money Cash Money Record's notorious alumni Lil Wayne, and even Jay-Z– the Hova himself. This immediate success in the industry was rare and unprecedented; Drake managed to gain momentum off only a few minor-hit mixtapes, and yet he was gracing the radio just four years after his first release, Room For Improvement.
What stood out to many about Drake was that he seemed to represent the forefront of a new movement of hip-hop which brought sensitivity, emotion, and a new-found respect for women forward; qualities that never previously defined the genre. He also emphasized poignant commentary on his fame and the success of others, discussing the pressures of letting it take you over as well as trying to remain above it. Thank Me Later's followup Take Care only made his talent stronger as he scored high charting hits with songs like "Headlines", "Take Care" (which featured Rihanna), and even started the worldwide "YOLO" trend with "HYFR (Hell Yeah F**king Right)" which once again featured Lil Wayne. His success once again increased with Nothing Was The Same, arguably one of Drake's most honest, composed, and bold release thus far.
However, all these successes have past, and Drake has shifted his focus to keeping up with his image and creative velocity as more and more time grows from his breakthrough. If You're Reading This It's Too Late was dropped on a surprising whim without any warning, surprising fans who were expecting Views From The Six: His alleged fourth LP. This is leaving many to theorize that If You're Reading This was dropped only to fulfill a four-record contract with his label Young Money Cash Money, or even that this surprise release is in replacement of Views From The Six. Whatever this release is (a mixtape, contract extinguisher, replacement), Drake is back, and many are thrilled.
I've been a follower of Drake since I fell in love with Take Care back in 2011, and seeing Drizzy make a return had me excited, despite the mysterious circumstances. What immediately stands out on If You're Reading This It's Too Late is Drake's precise focus on, well, himself. On this release, Drake has left out the heartache-laden R&B that helped define Take Care and has set out on a cathartic explosion of confidence and thoughtfulness on himself and his career. This poise is immediately introduced on "Legend", a song where Drake proclaims that if he were to die today, he would die a legend due to his influence and young age. "It's too late for my city/I'm the youngest n**ga reppin'", he cascades on the first verse and solidifies his morale. On "10 Bands", Drake challenges the authenticity of other artists in his genre, dropping lines like: "I can tell you not a rapper/Tryna sell this story/I don't even open up the package" and discussing his challenging roots where he allegedly was paying his mother's rent by the time he was seventeen. On "Know Yourself", Drake even claims that those who lust after his position in the genre don't deserve it. This confidence Drake spews is immediately infectious, and many of these songs offer a deep look as to who Drake and how he feels about his success, wealth, and the very state of the hip-hop industry.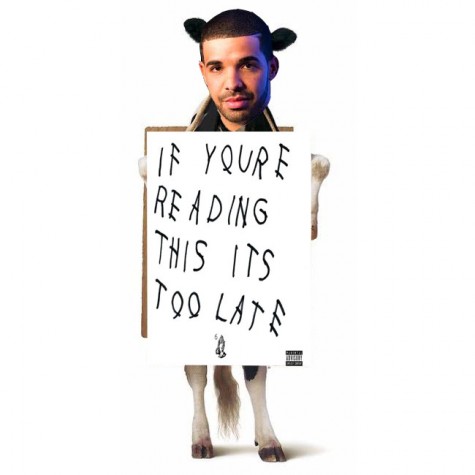 The production on If You're Reading This isn't anything Drake hasn't played with before, but what's collective about these tracks is that they often converge sounds from each of his past releases; a creative decision that illuminates a new flair to these tracks and drives their bold allure. However, If You're Reading This strongly implements the production charm present on Nothing Was The Same. The lingering piano flicker that backed up "Wu Tang Forever" is far more rampant on this new release, with less radio friendly pulsing that made "Hold On, We're Going Home" such a hit. PARTYNEXTDOOR's hand on "Preach" and "Wednesday Night Interlude" gives the tracks a gnawing ambiance characteristic of a low-key dance track; an aesthetic which hadn't been previously explored on any of Drake's tracks.
If You're Reading This couldn't have been a bigger surprise, and the strong material on this LP completely justifies it's sporadic release. Drake is at a bold, introspective point in his career where the listener can not only get a scope on who he is, but how he feels about his success and the industry he lies in. This latest release manages to be personal with a resolute lack of intimacy, and those who appreciate when Drake's monumental confidence bleeds through his music should find enjoyment in this LP. Even if you're a bigger fan of a more romantic, intimate drake, this LP is sure to surprise and shock.
Score: B+
Listen to: "Energy", "Ten Bands", "Star67", "Preach", "6PM In New York (Bonus Track)
For those who appreciate the font on the cover of this LP, we've prepared something special. 
Leave a Comment