Student of the Week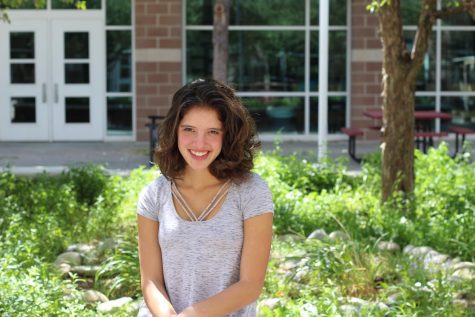 More stories from Anna Wexler
For many high schoolers the challenge of taking on something unique and difficult would be daunting, but not for freshman Mia Manson who knows a thing or two about reaching new heights.
Manson has set the bar very high, literally. She is an avid pole vaulter, and an all around track success. Part of her success can be contributed to long length of time that she has been working at the sport.
"I've been around pole vaulting since I was born," Manson said.
Manson's dad, Pat Manson, is a pole vaulting coach, and runs Above The Bar Vaulting, which specialises in teaching people how to pole vault. Manson started competing seriously about a year ago, but has been watching the sport for her entire life. She recently made the decision to pursue the sport, and the choice has made a positive impact on her life for sure.
"It's really cool how you can see yourself improve, by getting through higher bars, and it's also so technical and there's always something you can work on, it's not just like you end at a certain point, you can always get better," said Manson.
Manson's first indoor meet took place on December 28, and she vaulted at a height of 10'6. As her season continued, Manson continued to improve, and on January 29 at the USATF Colorado state indoor championships, Manson reached the impressive height of 12'7.5.
This vault landed Manson as the number one vaulter in all of Colorado, and put her in the running to break the freshman indoor pole vaulting record.
"I'm excited to keep jumping and see how it goes," Manson said on the success she has found within her year of competing.
As they say though, the more one loves what they are doing,the better they will do, And Manson is not arguing with that fact.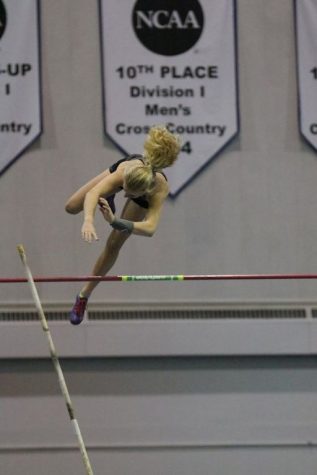 "I get excited for what's to come, and i just like pole vaulting and it's fun to do and i'm happy after that," Manson said.
Manson looks forward to participating in the upcoming Monarch track season, and plans to run sprints, jump the high jump, and of course, pole vault.
Manson has not only succeeded in vaulting but with both high jump and sprints and she won the Colorado Junior Olympic Championships with a high jump of 5-3.75 which was a height that allowed her to progress in the competition. Manson also has a 12.6 second 100 meter dash time, which is a very impressive speed.
No matter what the activity, a person always needs to have someone in their corner, routing, cheering them on and Manson's father does just that for his talented daughter, he also is very excited about his daughter taking on pole vaulting.
"My dad is my coach and he used to be a pole vaulter. He is really excited about it," Manson said when asked who her biggest supporter was.
Whether it be pole vaulting or long jumping,Mia Manson is a track athlete and vaulter to be ready for. With the waves she has already created in the sport, the opportunities for this student athlete are endless.
Leave a Comment