Breakthrough
The sky's the limit for the boys' basketball team under the direction of Josh Brenning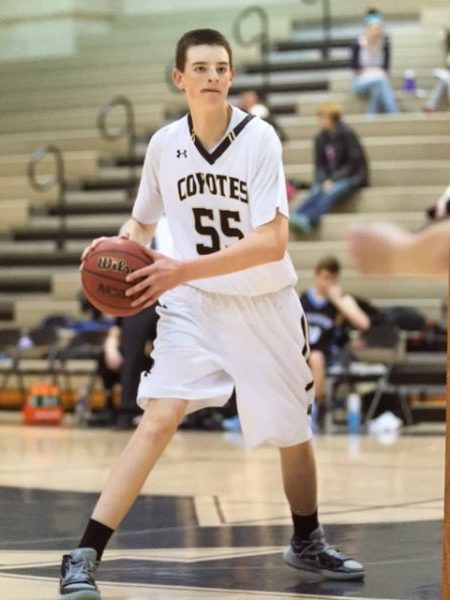 Coach Josh Brenning and senior team leaders Roy Grigsby, Stone MacIntyre, and Sawyer Weiler sit around on couches in The Forum, laughing and discussing ideas for spirit wear, game themes, and a variety of plays. In years past, this nonchalant time together would have been unprecedented, but this year it's the norm. Due to his job as a tutor in The Forum, Brenning is available as a mentor, friend, or support system throughout the school day as well as on the court. The relationships that Brenning has developed with his players, particularly the senior leaders of the team, are a main reason why the team has such high expectations for the year.
"One of our main goals [this year] is not only working together, but working for each other. We want to be 13-0 going to the break. We definitely have the potential to be a great team [and] we are really trying to chase a state championship that has never been done here. I believe the farthest a team has gone is the Elite Eight so we want another league championship and then a state championship," Weiler said.
Since June, members of the team have been working hard to try to reach their lofty goals.  Throughout the summer, the team had 6 am practices to keep the players disciplined and focused while working on skills and fitness, although the season was still months away. As the season approached, some players who weren't involved in other sports, primarily football, practiced before and after school in preparation for their challenging schedule right off the bat.
"[Before the season], we tried to go Mondays and Tuesdays, Thursdays and Fridays and have an off day Wednesday for film or shooting. We have lots of games in December and some really tough scrimmages starting Thanksgiving, so it's a pretty full schedule," Brenning said.
In his 20th year of coaching, Brenning looks to bring out the best in every player on the team rather than pressure the players into being something they are not. If they can do this, Brenning thought they had a great chance for success on the state level. His enthusiasm translated into the players as well, creating a new energy throughout the program.
"This year there is new excitement about the program–people want to be at practice as opposed to not wanting to come. Everyone is also showing up on time and working hard as opposed to late and not caring as much," Grigsby said.
One factor in this excitement is the team they have assembled this year. There is a mix of mostly juniors or seniors that are friends with one another. Everyone buying into the goals of the program while having a good time with their friends makes the hard work seem more bearable.
"Everyone is playing as a team and for each other rather than for statistics and they're really buying into what we can do here as opposed to doing their own thing," Grigsby said.
For Stone MacIntyre, the incredible energy and excitement is visible even without being at many of the early practices. MacIntyre is one of a handful athletes that play football in the fall and then basketball in the winter, a quick turnover with no recovery time in between, especially if the football team does well and plays into the start basketball season, as they did this year.
"Everyone [at Monarch] is used to a not very fun brand of basketball to watch and now this year we've got some fun stuff. Coach Brenning brings a new energy. We all wanna play for him, do well, and have fun," MacIntyre said.
With smiles illuminating their faces and laughs echoing around the forum, the message is clear. Under the direction of Josh Brenning, the boys' basketball program is headed on a path that the whole school should be excited about. From selling vintage jerseys to trying to get the pep band to games to making gear available for the student body to buy, it is evident that Brenning and the basketball team look to add new energy and school spirit this season and for years to come.
Leave a Comment