Oh the Places They Will Go
Student Athletes Sign with Colleges Across the Country.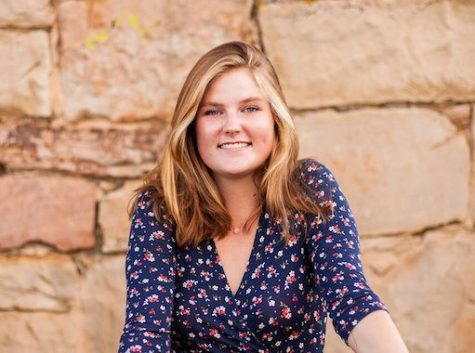 More stories from Estelle Silk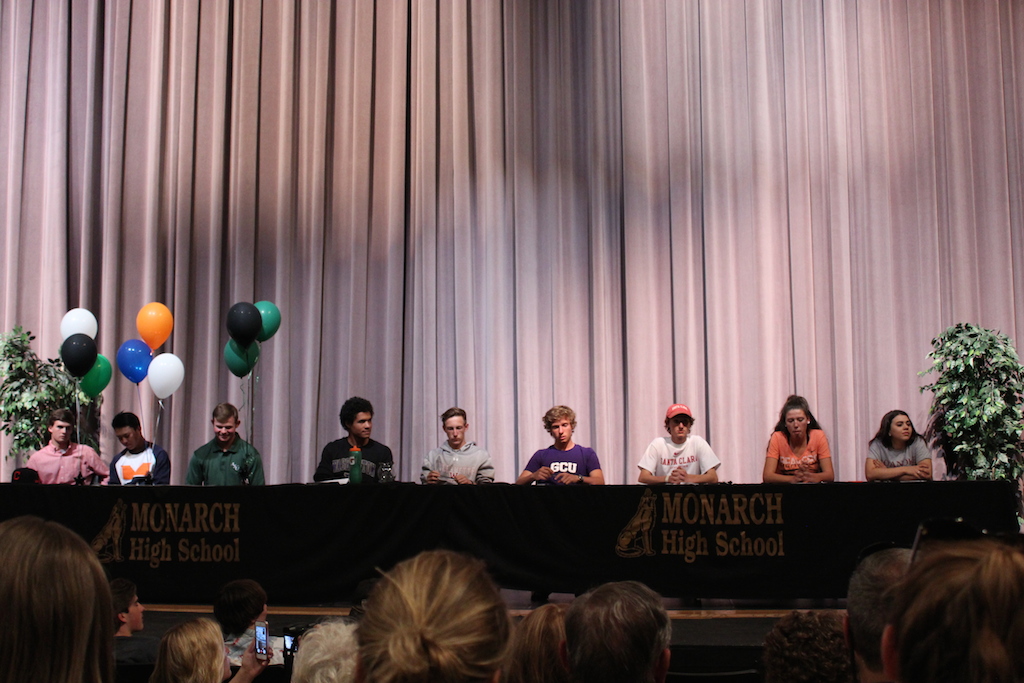 Many seniors at Monarch have been committing to colleges where they will continue not only their academic exploration, but their athletic careers. This spring, three baseball players and six track and cross country athletes committed to their colleges.
Connor Flynn- Adams State University
Connor is looking forward to continuing his baseball career at Adams State in Alamosa, Colorado.
"I think it will be a great challenge and I'm excited to continue playing the game I love. I'm excited for Adams State because it has the major I want and it's still in Colorado, so I can see my family from time to time, but far enough to be away from home," said Flynn.
Audrey Lookner- Oregon State University
Cross Country and track competitor, Audrey Lookner will attend Oregon State University where she will continue her career as a runner.
"Honestly it's been a really long journey, but the best, most rewarding part was to sign next to my best friends. It's crazy that we are all going across the country from each other next year, but it will be even better to see everyone at different meets during the year," Lookner said.
Isaac Green – University of Washington
Isaac has been a lead athlete at Monarch since his freshman year, and is known around the country for his athletic accomplishes.
"Running next year is a huge opportunity, it feels like I finally get my shot," Green said.
Sawyer Lofstedt- Cuesta College
Even with a injury bringing his season to a halt, Sawyer is staying optimistic about his future, and is attending Cuesta College in San Luis Obispo County.
"I was relieved to know where I was going to college. And the signing day just amplified my excitement. I am also very excited to be given the opportunity to play baseball past high school. I'm pretty scared about college, but I'm ready to start my new life in California," said Lofstedt.
Greg Hibl- Grand Canyon University
Greg has been running cross country and track for Monarch for the last four years, and his success has landed him a spot at Grand Canyon University.
"Excited to start something new and [GCU is a] very great opportunity that I am thankful for. But with the opportunity I understand it is a huge commitment which is scary. But I am very enthusiastic for my future, Hibl said."
Tyler Seebaum – Midland University
Tyler will find himself in Fremont, Nebraska, where he will play baseball.
"I feel such ease after signing and not having to worry about where I'm going to go. I'm grateful I get to play baseball in college because not everyone gets the one shot or opportunity to seize everything I ever wanted. I'm excited about going to Midland and to start a new season cuz every season my season," Seebaum said.
Zach Litoff – Santa Clara University
Zach's older sister also continued her running career in college, and Zach is continuing the legacy at Santa Clara University.
"My singing experience was very surreal, I never thought I would be good enough to run division 1, especially not with a scholarship," said Litoff.
Tatiana Cherry Santos – Roanoke College
Tatiana will be running at Roanoke College located in Salem, Virginia.
"It felt really amazing because I was signing with other kids from the team, especially Audrey because we are best friends. It also felt good that the last four years of running paid off and I'm super anxious and excited to continue into college and just keep working on improving my times," said Cherry Santos.
Leave a Comment