Fresh Beats with Brody: Alex Dezen – 2/4
Songwriting's romantic, troubled golden boy returns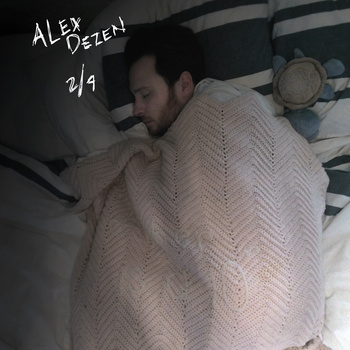 Image Credit: Poor Man's Record
I'm going to say it up front; I'm a huge fan of Alex Dezen's music. Ever since 1/4 of The Bedhead EPs released in January, I've been on my toes waiting for another collection of tunes from the wildly talented, highly underrated songwriter who also fronts the Brooklyn based band The Damnwells. Thus, I'm going to do this "Fresh Beats" review differently and talk about each track in excess – Picking them apart piece by piece.
Other People's Drugs: Hell, I knew I'd like this song from the first line – "I wanna do other people's drugs with you." The lyrics to this opener to 2/4 carry the same brash affection that made me fall in love with The Damnwells' music in the first place. Dezen introduces this song with a tranquil flurry of fingerpicking, beginning to list off a whole list of unorthodox wishes such as "I want to do other people's drugs with you", "I want to scuttle a ship lost in a sea of truth", and "I want to lose twenty pounds and keep my band underground." Immediately, the song exerts a reckless serenity which maintains it's resonance along the way. The second verse of these boasts a folky slide guitar which contributes an authentic atmosphere to the song's charm. One of my complaints with this track, however, is that it abruptly transitions from this verse to a guitar solo with little room to breathe; a mishap in it's production rather than musicianship. "Other People's Drugs" is a shining demonstration of Dezen's superb lyrical ability, although as the song builds up, it moves into a quirky, detachable new wave breakdown incongruent to the song's heartfelt aesthetic. As a whole, it sounds to be Dezen reflecting upon his youth, with the addition of the line "…unleash the holy kung fu," one of the greatest phrases I've ever heard. Unfortunately, the sluggish off-the-wall breakdown distract from the song's nostalgic charisma. Yet, up until the lengthy outro, this song is Dezen's songwriting at it's finest.
Not So Bad: This harrowing, personal ballad left me with goosebumps when it came to an end. Dezen inhabits his emotional characteristics of dis-attachment from his father so wholeheartedly, and lines like "I don't need you/And that's the honest truth" just hit home whether I'm considering the meaning of the song or not. By the time the second verse rolls around, straightforward drums and an orchestral arrangement accompany the clean piano melodies while Dezen continues his marvelously disheartened emotional reign over the song. "Calling up radio stations but they can't play the songs in my head," he sings with desperation in the second verse. I'm going to take the bold approach of a fan and say that this riveting, poetic ballad of fatherhood and self examination is one of the best songs Dezen has released thus far.
The Ballad of Eve and Randy Quaid: This song harnesses a minimally produced, folky spirit to bring rugged environment to it's style of storytelling. A lone, buzzing chord progression accompanies the lyrics where Dezen tells the story of a rasping, cinematic, and eventually lost love. This song is not only a brash, gritty, and refreshing break from the graceful production of the first two songs, but a glimpse into a style of songwriting Dezen doesn't frequent in his signature odes to love, life, and self worth. This is by far one of the best songs on The Bedhead EPs thus far.
2/4 is yet another addition to Alex Dezen's catalog of prosperous songs, and aside from the unwieldy electronic buildup on "Other People's Drugs", this new collection of songs will be deemed a hearty treat by fans of Dezen and The Damnwells, or anyone who appreciates valuable music and the songwriting that frames it. (Aspiring lyricists and writers, listen up: You can learn something from this guy). 
Score: A
2/4 is out today via Poor Man's Record. Take our your wallet and buy it/listen to it here on Alex Dezen's bandcamp if you still think CDs are cool, or on iTunes if you want to stay trendy. 
Be sure to listen to: "Not So Bad" and "The Ballad of Eve and Randy Quaid"
Check out The Howler's review of 1/4 here, and an interview I had the privilege of doing with Alex as well. You can watch the music videos for all three songs off 1/4 below!
Leave a Comment