Track Review: Butch Walker's "Bed On Fire" Soars With Romantic Torment
Butch Walker continues his gloriously somber reign with "Bed on Fire"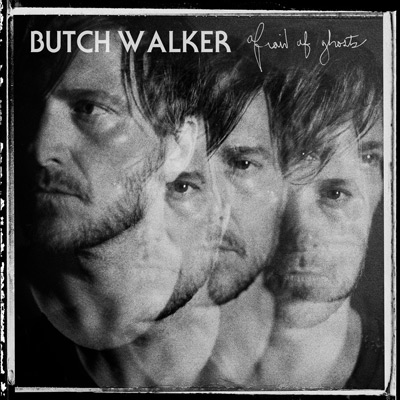 Butch Walker's success has made a habit of hiding in the rafters. The superstar producer for the likes of Katy Perry, Pink, Weezer, and others has been performing and recording music since the mid eighties when he played guitar for a multitude of hair metal bands during high school. Since then, he's found success with Southgang, the late-nineties one-hit-wonders Marvelous 3 — Cascading into the fit of late nineties alt-rock with the single "Freak of the Week", and an abundance of solo material in the 2000s along with music released with the backing bands The Lets-Go-Out-Tonites and The Black Widows.
Dangerbird Records
Walker's upcoming LP, Afraid of Ghosts is set to take on a much more solemn, introspective tone. Recorded on live analog tapes at Ryan Adams' Los Angeles studio Pax AM, Ghosts has floated into weighty, emotionally heavy set territory with the singles "Chrissie Hynde", "Afraid of Ghosts", and "21+". All three of these songs boast stark acoustics, melodically layered vocals, and the occasional keyboard waltz that could easily accompany your sad days.
Dangerbird Records
"Bed On Fire", a song which features the guitar talents of Husker Du's Bob Mould, maintains the somber aesthetic put forth by the three previously released singles, but takes it to a grandiose, romantically tormented scale. The verses take on the same bare-bones approach than the three prior singles harassed, utilizing a solemn storm of minor chords and Walker's pleading vocals. The chorus, however, reaches a dark, brooding, and soulful point thanks to a gritty orchestration accompaniment in the foreground, self asserted percussion, and raw, desire-stricken lyrics. "Bed on fire/Our love in flames/A hundred times/You say my name", Walker professes alongside the ruminating instrumentation. As "Bed On Fire" progresses, you can sense the desire getting stronger and stronger; this song is a genuine, raw appeal towards a dying romance, and not for a second does the afflicted tension cease. A sulking and gritty guitar solo also explodes in, graces the presence of the bridge and driving the song even deeper into your chest than before.
Dangerbird Records
"Bed On Fire" is by far the most ambitious and momentous single off of Afraid Of Ghosts thus far, only increasing my anticipation for Afraid of Ghosts which is set to drop February 2015.
Score: A
You can listen to "Bed On Fire" over at Noisey: Vice's Music News branch. 
Be sure to listen to Walker's other three singles from Afraid of Ghosts below, and check out The Howler's review of "Chrissie Hynde" and "Afraid of Ghosts".
Leave a Comment