BANKS — Goddess Review
Something magnificent happened in pop and electronic music this year; Banks, an inherently distinctive singer-songwriter, came forward with an aura of music characteristic of the experimental, technical R&B of FKA Twigs yet while holding the unprecedented emotion of The Weeknd close to it's heart. This Tarzana, California native is truly exceptional because her music can appeal to fans of sweltering, calculated EDM and mainstream pop lovers alike; what we have here is a woman with a strong musical identity for only her first LP, and it's this exact sultry boldness that Goddess is here to frame.

center

Banks has been steadily releasing songs via double singles and brooding music videos since late last year, and Goddess compiles them into a sharp, glossy package for longtime fans and new listeners to easily indulge in. Many of these songs, including "Waiting Game", "Brain", "Drowning", and "Beggin' For Thread" have already been released, but to new listeners, Goddess is a sharply produced arsenal of creatively fatigued, chilly songs characteristic of each other in that they all flaunt icy, honing EDM instrumentals along with sensual charm that could cut your tongue if the volume is turned up too high. This sharpness is brought to light on "Beggin For Thread", a track banks opens with "So I've got edges that scratch/Sometimes I don't got a filter", a self prophesying line that launches the song into a low key, self pondering episode looped over a sulking, airplay reminiscent instrumental. What's really impressive about this debut is that it somehow manages to intertwine seductive, distant fatigue with the sharp, gloomy edges of trip-hop R&B to create a perpetually drawling yet intriguing warmth. The title track "Goddess" practically unbuttons itself as it skates over a sea of acute EDM tapers while Banks unravels the cold aftermath of a relationship through her brooding, red-eyed vocals.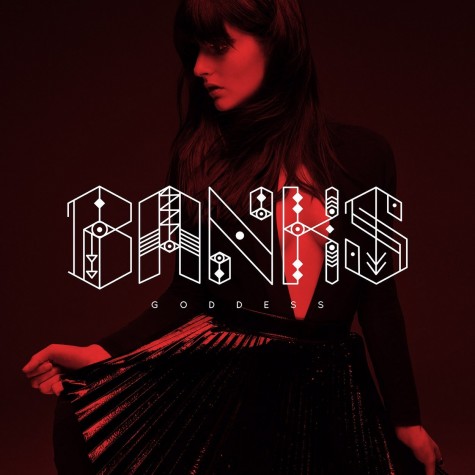 However, while Goddess finds glory in so-cold-they're-hot instrumentals and a drawling sharpness, many songs find themselves trapped in a fit of listless R&B that have the potential to render a listener heavy-eyed. "Is This What It Feels Like" spins like a slow trudge through recycled trap beats, and "Change" gets lost in it's minimal spectrum of color from the start. Many of the never-before-heard songs on Goddess don't exfoliate the same veracity as the singles, and the EDM ridden R&B just sounds muddy — A formula that, oddly enough, works fantastic for the other, bolder songs on this LP. Nonetheless, it's when Banks experiments with a new batch of dynamics where her talent shines. Banks attempts to shatter hearts — And prior conventions — With the piano ballad "You Should Know Where I'm Coming From": A hauntingly romantic track reminiscent of Adele that manages to carry all of it's detached angst from beginning to end. "Someone New" is another offbeat track accompanied by a strung-out acoustic guitar that allows Banks' lovely vocals to spark the dreary tone with a sky of fireworks.
Holistically, Goddess lacks the aesthetic, atmospheric beauty of her prior singles and EPs, though there's still a courageous musician with a substantial amount of musical identity behind this crimson veil.
Tracklist
1. Alibi
2. Goddess
3. Waiting Game
4. Brain
5. This Is What It Feels Like
6. You Should Know Where I'm Coming From
7. Stick
8. F**k Em Only We Know
9. Drowning
10. Beggin For Thread
11. Change
12. Someone New
13. Warm Water
14. Under The Table
Score: B-
Listen to: Alibi, Beggin For Thread, and Brain
Leave a Comment