Dalton's Cinema Spot- Captain Phillips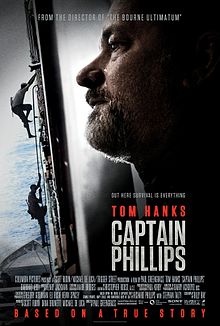 PG-13, 134 minutes
Starring: Tom Hanks, Barkhad Abdi, Catherine Keener
4.5/ 5 Stars
 Already 2013 is yielding some of the best Oscar contending films in years, and it's only October. Captain Phillips is the true story of Richard Philips (Tom Hanks), a cargo ship captain that's navigating a ship carrying tons of supplies to Kenya in 2009. As the massive ship rounds the Horn of Africa and enters seas near Somalia, the ship becomes hijacked by a band of four armed pirates. This becomes the first pirate hijacking of a cargo ship in two hundred years and the noble captain will do anything in his power to get the pirates off the ship.
Captain Phillips is Tom Hanks' film. In fact, besides him and a few of the pirates that hijacked the cargo ship, he's the only person whose name we actually know. Usually that could hurt a film, forcing the audience to like only one character and feel compassion for one, but Hanks saves the day. With a dynamite performance that is his best role since Cast Away, Hanks manages to deliver a heart wrenching and realistic turn as the trapped captain.
The film is extremely claustrophobic, nearly everything taking place in either the narrow, sweat laden corridors of the cargo ship itself or inside a moving hotbox that is an armored lifeboat. Sweats pours down Hank's face throughout as machine guns are glued to his body, and there is almost as much sweat on his face as there was on my hands as I watched the tension filled film. This at times feels like a fairly straight forward thriller but it is elevated beyond simply being good by the knockout turn done by Hanks, making this a serious Oscar contender.
What keeps the intense film away from perfection is it's beginning which is incredibly drawn out and is quite boring until the actual pirates take to the sea. Yes it's supposed to build character development for Captain Phillips and the lead pirate, showing why he has to hijack ships, but all this could have been cut into ten minutes instead of drawn out for a half hour. The weak beginning is nothing compared to the rest of the extremely fast paced, nerve clenching film that spirals deeper and deeper into primal psychological torture film that keeps you on the edge of your seat until the very last minutes, which vastly show the fragility and amazement in Hank's performance. Captain Phillips is a smart and visceral thriller that displays how an excellent true story film should be made.