Gritty Indie Rock at Its Goofy Finest: Red Fox Run
Red Fox Run shares their quirks about band life and the significance of pizza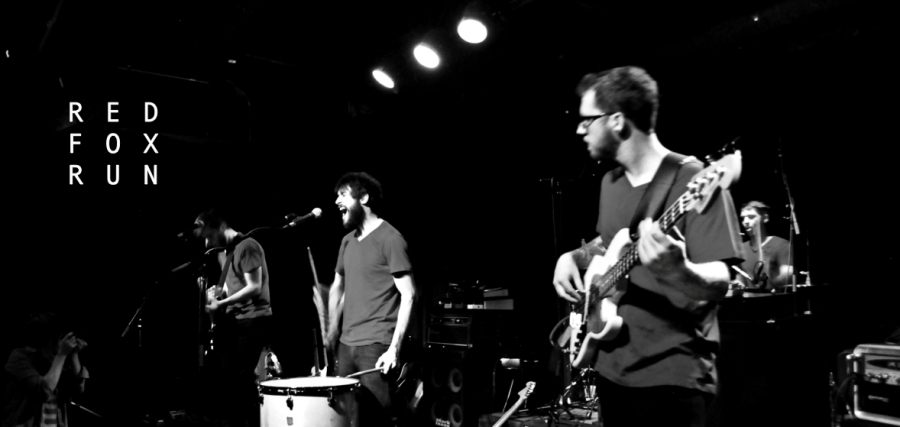 Based out of Denver, alt rockers Red Fox Run explode into the spotlight with drum beats that make you want to break out into the horizontal head bob and catchy guitar riffs that continue to roll through your mind, long after the song ends. Composed of frontman Daniel Rondeau, lead guitarist Joshua Hester, bassist Seth Beamer, and drummer Caleb Thoemke, the band has been able to draw a crowd with their blaring speakers and humorous charm. With songs that combine the feel of the relaxing-yet-energetic rock and roll melodies of The Strokes and the rompy-feel of the Epilogues, Red Fox Run would easily find a home in any alternative fan's playlist. Formed in 2009, the band released their debut album take[ctrl] in 2011 and then followed suit with Skeletons in 2012. The band has played alongside groups such as Walk the Moon and The Outfit, while still being engaged in the community. The Howler got the opportunity to to talk to the group via email.
Howler: Could you talk about how your band formed, such as how you each met and what influenced you to start writing and performing music?
RFR: Josh and Daniel met at a music school in the fall of 2008. They began a band called Neighborhood Hero, which didn't keep too much momentum for long. In early 2010, Josh and Daniel started the band Red Fox Run. Caleb and Seth knew each other for some time from CU Denver, and through mutual friends, were introduced to Josh and Daniel, rounding off the current lineup of Red Fox Run. The connection that we have musically is part of why we play music together. It's a very electrifying sensation. We hope to be able to share this with people who hear our music at shows and on CD's. Music has helped some of us get through life in general. Life would have been a blur, if not completely ended if it were not for music.
H: Could you describe RFR's music to someone unfamiliar with the band?
RFR: Yes. Gritty, poppy, rock and roll. Our band sounds like if Weezer were the little brother to Radiohead, and tried so hard to sound like Radiohead, but no matter what, was still Weezer. We like to put out the poppy, simple rock songs, but with a bit of complexity that we can really nerd out to. Others might not notice it, but they'll feel it.
H: What was the inspiration behind the name Red Fox Run?
RFR: Peaches. Pure and simple.
H: What bands are RFR inspired by? Who of your favorite bands would you want to open one of your shows?
RFR: Mutemath, Radiohead, Weezer, Kanye West, Snarky Puppy, Copeland, Fugazi… A painful amount of more.
H: Could you  describe the process of writing new material? Is there something unique that the band does when writing and tracking songs?
RFR: We have a multitude of songwriting techniques that we employ, and one of them involves large rubber balls. Sometimes it happens in the form of a rude interruption, when we should be preparing for show, but doesn't knock commonly enough to let them pass them by.
H: Are there any particular subjects that as a band you try to convey to the audience?
RFR: Hope, individual thinking, sharing conversations with God, and self expression
H: How has the release of your debut [take]ctrl affected the band since it's release?
RFR: This album was so all over the place, that after we tracked it and performed it a million times, we began to hone in the sounds, songs, and songwriting styles we enjoyed the most. We were able to find our sound from [take]ctrl.
H: How did the darker direction of Skeletons come into play, considering the bouncier nature of take[ctrl]?
RFR: This was us getting to explore our deeper emotions and heavier sounds that we felt we were lacking in our previous songs in [take]ctrl. We were also going through some really rough times going into this record. We sometimes wanted to stay in bed instead of going into the studio, but some genuinely passionate music did result from it, as much as some of the time sucked.
H: Was there a specific issue that this album targets?
RFR: Skeletons. In our closet, that we feel so contempt and comfortable with living with. The album is about learning to stare them in the face, and not eradicate them, but to revive them and create life from where death was prominent.
H: Do you have plans for a third record?
RFR: That's still in the works. We are releasing a single this Saturday (10/18) called No Wonder, that will be available on our Bandcamp and Soundcloud, both accessible through our website (redfoxrunmusic.com)
H: What does RFR try to and bring to their live performances?
RFR: We try to blow your mind with the craziest energy you've ever seen. We get tired of going to shows and seeing so many bands that looks like they're not having fun, and the audience is therefore bored. We try have more fun than anyone, and fun is incredibly contagious. That and bringing the fox furies. We literally have a following of furries.
H: Who are some of your favorite bands to play with?
RFR: The Knew, Chemistry Club, Branded Bandits, Maroon Five, Anthony Ruptak, Ivory Circle, The Outfit, and more.
H: You guys were chosen to perform for the JeffCo Students for Change rally this week. What is your stance on the issue and how was this different from your other shows?
RFR: This show wasn't like any other show we've ever played. We very much support the cause of the JeffCo Students for a change, and we believe that the number one priority opinion should come from teachers, students, and parents, when it comes down to curriculum. Also, it's so great to see students being active in their community, and even if you guys were protesting something as insignificant as pepperoni pizza vs. sausage pizza, we would support your voice being heard.
H: How do you guys feel about the Denver music scene; what are some of it's best qualities?
RFR: Diversity! And competition. We all love each other, but while we're smiling at them, we're thinking about all the ways we plan to outperform them.
H: What were your favorite shows/festivals to play at this year?
RFR: Underground Music Showcase for sure. The UMS is a four day festival, with the best music, and South Broadway becomes a huge 10 block long block party. Also our Super House Show that we throw every year at our house, known as the Fox Den. We invited some of our favorite bands, local and out of town.
H: How do you you guys spend your time outside Red Fox Run?
RFR: School, work (a little) more Red Fox Run, and general badassery.
H: What do you think makes RFR unique from other bands?
RFR: Physical Beauty.
You can check out Red Fox Run at their Facebook, Twitter, or their website. Hear their sounds on their Bandcamp page.
Leave a Comment