Guide to the August 2017 Solar Eclipse
Your Guide to the 2017 North American Solar Eclipse!
Kevin Wu, Multimedia Editor
August 18, 2017|269 Views
On August 21st, people from all over North America witnessed a magical awe-inspiring event: a total eclipse of the Sun.
What's a solar eclipse you ask? In layman's terms, the moon will essentially pass in front of the Sun, therefore blocking it for a short duration of time. The moment where the Sun is completely covered by the moon is called totality.
There are three types of eclipses. A partial eclipse does not fully line up with the Sun and only blocks some light from reaching Earth. An annular eclipse occurs when the moon and Sun are perfectly aligned but either the moon is further from the Earth or the Earth is closer to the Sun. This causes the moon to appear smaller than the sun. The third and final kind of eclipse is when the moon fully covers the Sun. Only the much fainter solar corona is visible during a total eclipse. People from all over the United States will be able to view a partial solar eclipse, while those within a narrow corridor of 14 states, including Nebraska and Wyoming, will be able to witness totality. The last time a total solar eclipse was seen in America was on February 26, 1979.
Solar Eclipse Details (for Boulder, Colorado and its surrounding areas)
When: Monday August 21st, 2017
Eclipse begins: 10:22 AM (MST)
Maximum eclipse: 11:46 AM (MST)
Eclipse ends: 1:13 AM (MST)
Duration: 2 hours and 51 minutes
Magnitude: 92% – 94%
Weather Forecast (as of 8/20): Partly cloudy. A high of 83°F and low of 59°F with a 20% chance of precipitation. A stray thunderstorm/shower may be possible. Winds NNW at 10-15 mph. (Click here for the latest forecast from weather.com)
[Source]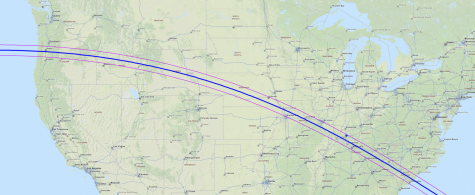 Obtaining solar eclipse glasses
While we inch closer to Eclipse Day, there have been reports of potentially unsafe solar eclipse glasses flooding the market (notably cheaply made ones from China). The American Astronomical Society typically recommends looking for a label indicating that the glasses meet the ISO 12312-2 safety standard for direct viewing of the sun. This method is no longer sufficient, due to companies printing the certification on fake and unsafe glasses. To combat this issue, the AAS has published a list of recommended companies to purchase eclipse gear from. Among them are Celestron, American Paper Optics, Thousand Oaks Optical, and Rainbow Symphony just to name a few. Due to how close it is to the date of the eclipse, it is highly suggested to find a pair quickly before stocks run out. The full list can be found here.
It is recommended at this point that you stay away from purchasing glasses on Amazon due to the risk of counterfeit products.  Instead,  find eclipse shades at local stores. McGuckins Hardware, Lowes, Grandrabbits Toy Shoppe, the CU Bookstore, Fiske Planetarium, the National Center for Atmospheric Research (NCAR) and the Denver Museum of Nature and Science have all been selling ISO-approved solar eclipse shades. Forty four Grease Monkey locations across Colorado will also be giving out free eclipse glasses [Source]. The Louisville Public Library is currently giving away a limited number every day (until August 21) upon opening and at 4:00 pm. It's suggested you arrive at least 90 minutes in advance to secure a spot in line. [Source]
UPDATE 5:00 pm Friday: McGuckin's Hardware has received a new shipment of 2,000 more eclipse glasses as of 10:30 am Friday. Limited to 4 per person. A new shipment of 3,000 eclipse shades is available at the Grease Monkey location on 2334 N. Main St. in Longmont and another 3,000 are available at the Grease Monkey location on 18401 E Hampden Avenue in Aurora. [Source][Source]
UPDATE 6:40 pm Friday: McGuckin's Hardware new inventory of eclipse glasses is sold out. Lowes, Grandrabbits, the CU bookstore, Fiske Planetarium, and the Denver Museum of Nature and Science are sold out as well.
UPDATE 1:50 pm Saturday: The Grease Monkey locations at  2334 N. Main St. in Longmont and 18401 E Hampden Avenue in Aurora have run out of glasses. Over the past couple of weeks, 9News and Grease Monkey was able to distribute about 225,000 solar eclipse glasses to communities all over Colorado. [Source]
What to Expect on Eclipse Day
If you plan on taking a drive to cities in Wyoming, Idaho, Kansas, and Nebraska, be sure to take extra care when traveling. The roads  (including major highways, side roads, anywhere with a high up vantage point, etc) will likely be gridlocked with vehicles. People may be camping out along the side of the road as early as 1-2 days prior to the event. Prime viewing areas such as Casper, WY, are set to crowd up 2-3 days prior to the eclipse. Wildlife areas such as Grand Teton National Park (Yellowstone is not under 100% totality) will also be quite crowded on that weekend. The Wyoming Department of Transportation has already taken extra precautions in anticipation of the influx of visitors to the state. They have a special website with information about eclipse viewing areas, etc, that you can view here. Campsites are already full and the rates for hotel rooms will go way up, with some reaching prices of up to $1,300. Travelers should bring everything (food, drinks, blankets, medicine, etc) that is needed to ensure a stress free day.
Due to the uncertainty of cloud cover, NOAA has released a historical map of cloud cover for the date of August 21 (note that the data is based on past observations). As always, the weather can be unpredictable. If clouds start drifting over your eclipse viewing location, you'll need to be prepared to literally "chase" the eclipse to avoid missing out on this rare event. Check forecasts in the days leading up to the eclipse for your planned viewing location, so you'll be able to change your plans accordingly.
NASA will be live streaming from various locations via their website at noon EDT. It will cover the path of totality, with views from locations on the ground, from the sea, in the air, and from space. The programming will start at approximately 1:00 pm EDT at www.nasa.gov/eclipselive.
What to expect at totality
If you travel to locations experiencing totality, expect the temperature around you to drop a couple of degrees. As totality nears, watch as the sky turns from deep blue to sunset blue to black. You'll see the stars come out, just as if it were night. During the event, you may hear crickets start to chirp and birds call out. Just prior to totality, you'll see the final sliver of the Sun break out into a "string of pearls" known as Bailey's Beads. This effect is seen until the last bead fades, and it is only after that when it is safe to view the eclipse WITHOUT glasses. You must put your glasses back on once totality ends. If you happen to be viewing a partial eclipse, you must wear your eclipse shades during the ENTIRE time. According to Celestron, it is best to limit your viewing of the Sun to under 3 minutes at a time with the glasses on.
Photographing the Eclipse
In addition to professional photographers, millions of people across the country will take photos of the eclipse using smartphones and/or digital cameras. It's recommended that you do not attempt to take photos using a smartphone. The photos won't turn out very well, unless you are holding the phone up to a telescope with a solar filter. Instead, use your phone to take photos of the scenery around you.
If you're rather insistent on taking photos, there are some tips below to help you get the best photo possible (applies to DSLR's, smartphone cameras, etc). Remember to treat the lens of your camera just as you would your eye. You wouldn't want to look at the Sun directly, so don't point your camera lens at the Sun directly either!
More photography tips/techniques can be found at the following links…
http://www.mreclipse.com/SEphoto/SEphoto.html
http://kdvr.com/2017/08/02/tips-for-photographing-the-great-american-solar-eclipse/
https://www.outdoorphotographer.com/tips-techniques/nature-landscapes/how-to-photograph-a-solar-eclipse/
Resource Links (Detailed maps, safety info, etc)
https://eclipse2017.nasa.gov
https://www.greatamericaneclipse.com/
https://eclipse.aas.org
https://www.space.com/33797-total-solar-eclipse-2017-guide.html
https://www.nasa.gov/feature/aug-21-eclipse-up-close-and-personal-with-nasa